How to use the Right Tools to Grow Your Business
Social media has become an essential part of any marketing strategy, and small businesses are certainly not exempt from this rule.
With various tools now available that include features such as analytics, scheduling, and content creation, small businesses have a range of options when it comes to marketing on social media. However, with so many choices available, knowing which ones are the best for your business can be tricky.
In this article, we'll share with you the best social media tools for small businesses, enabling you to make the most of your social media marketing efforts and get the results you're after.
Let's get right into it. Why Businesses Need Essential Social Media Tools
Small business owners need to be on social media because, in short, it's where their customers are. As a small business, you can't afford to miss out on potential business opportunities.
Social media tools can help save you time by automating or simplifying tasks, and can also make your social media marketing more efficient, effective and targeted.
This is particularly important for small businesses, who often don't have large marketing teams to rely on.
Some of the benefits that marketing and tech software (MarTech) providers offer when it comes to social media include:
Making it easier to find and engage with potential customers
Scheduling posts ahead of time
Analysing your social media performance and understand what's working (and what's not)
From digital agencies that use such tools to grow their business, to one-person shops that have turned to online marketing, social media tools are a way for small business owners to up their marketing game.
Types of Social Media Tools
Now that we've looked at why small business owners need social media tools, let's look at the various types of social media tools available:
Schedulers
Graphics and Design
Metrics and Analytics
Mailing Lists
SEO and Keyword Research
Outsourced Services
Let's take a more in-depth look at these.
Social Media Schedulers
With several types of social media posts businesses can publish, it can be tough to remember to post every day. This is where social media schedulers come in.
Schedulers allow you to queue up your content ahead of time and have it published automatically at the best time for engagement – without you having to lift a finger. This can free up a lot of your time, which can be better spent on other important tasks.
Scheduling a post typically involves the following steps:
Choose the social media platform you want to publish on
Connect your account
Craft your post
Select the date and time you want it published
Hit "schedule"
That's it – your post will be automatically published at the set time.
Graphics and Design
Social media graphics are important for your brand when trying to stand out among competitors. Great visuals can help capture attention and stop scrollers in their tracks, forcing them to pay attention to the message of the post. There are a number of tools available that can help with the creation of these graphics, and include anything from pre-made templates to more advanced design tools.
Some businesses choose to outsource their social media graphics to professional designers, while others opt to create their own. That said, remember that each platform has different image sizes and aspect ratio requirements, so make sure to take this into account when going down either route.
Metrics and Analytics
Tracking your social media performance and understanding what's working (and what's not) is essential. This is where metrics and analytics come in.
When it comes to social media metrics, there are a lot of different things that you can track. But some of the most important metrics to focus on include:
Reach: How many people see your content?
Engagement: How often are people interacting with your content? (Liking, sharing, commenting etc.)
Click-through rate: How often are people clicking on the links in your content?
Leads: How many leads are you generating from social media?
Sales: How much revenue is being generated from social media?
Social media tools can help you track these metrics, and can range from built-in platform analytics to third-party tools.
Social Media Listening
Understanding how social media listening works can also be beneficial when trying to create targeted content. By understanding what customers are saying about your brand, you can better understand their needs and how to address them.
Here's a table that details the types of data social media listening can monitor, what each type of data shows, and the kinds of insights you can glean from it:
| | | |
| --- | --- | --- |
| Data Type | Definition | Insights |
| Mentions | Any time your brand or product is mentioned online | What people are saying about you |
| Hashtags | All public posts that include a specific hashtag | How popular a hashtag is |
| Keywords | All public posts that include a specific keyword | What people are talking about in relation to a keyword |
| Competitors | All public posts that mention your competitor | What people are saying about your competitor |
Mailing Lists
The primary goals of a mailing list as part of social media is to grow your list of subscribers, and then promote future content to those subscribers.
Mailing lists can be a great way to boost traffic to your website or blog, and they can also be used to nurture leads and close sales.
From creating and managing mailing lists to simple opt-in forms and more complex email marketing automation, there are many tools available to help.
SEO and Keyword Research
Conducting in-depth keyword research can help you understand which terms and phrases potential customers use to find online businesses like yours. This, in turn, can help you optimise your website and social media content for those terms, which can result in more reach on social media, more traffic to your website, and ultimately, more sales.
Outsourced Services
Finally, if you're not interested in managing your social media in-house, you can always outsource the work to a social media agency or freelancer.
There are a whole host of advantages to outsourcing social media, including:
You can free up time to focus on other areas of your business.
You can tap into a team of experts who understand the ins and outs of social media.
You can get help with content creation, graphic design, and metrics tracking.
Here's a quick recap of the different types of social media tools, and who they work best for.
| | |
| --- | --- |
| Tool Category | Best For |
| Schedulers | Businesses that want to save time by batching content creation |
| Graphics and Design | Businesses that want to create high-quality visuals |
| Metrics and Analytics | Businesses that want to track their social media performance |
| Mailing Lists | Businesses that want to grow their mailing list and promote future content |
| SEO and Keyword Research | Businesses that want to optimise their content for better reach |
| Outsourced Services | Businesses that want to outsource their social media management to ensure quality content and results |
Our Favourite Social Media Tools
Let's now dive deep into the various tools we recommend here at 100 Pound Social, along with information on how they can be used to support your social media efforts.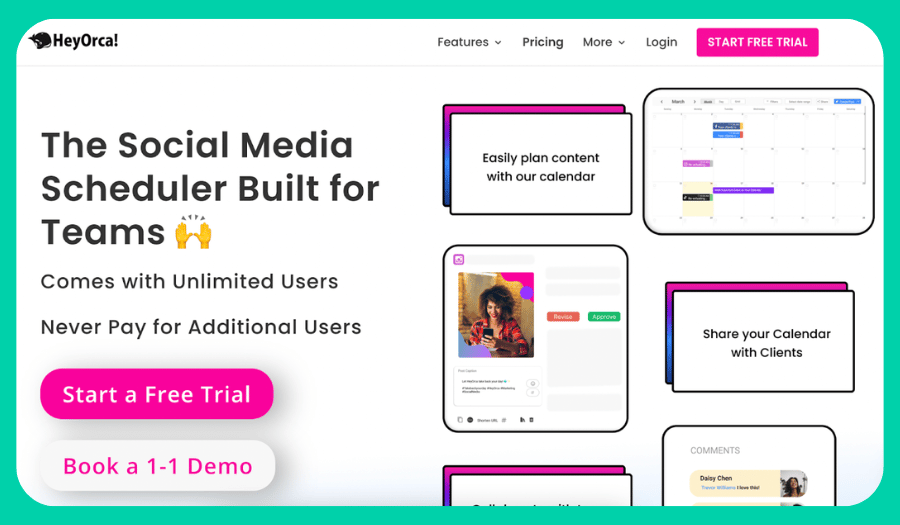 Uses:
Using HeyOrca's Content Panel allows clients to access their social media calendar, and gives them the freedom to see and change posts before they publish. This ensures that every post is on-brand, accurate, and approved by the client – giving them complete control of their social media.
This is actually the scheduler that we use here at 100 Pound Social, as it gives our clients the ability to review and adjust their posts prior to them being published. We love it so much, we also use it to write, schedule, and publish our own social media posts!
Pros:
An intuitive drag-and-drop content calendar makes it easy to plan, schedule, and publish content.
You can see all your social media in one place, so you never have to worry about posting the same thing twice.
Cons:
Some users find the interface a bit overwhelming and confusing if they've never used a social media calendar tool before.
Pricing:
Basic: $59 per calendar month
Standard: $99 per calendar month
Pro: $129 per calendar month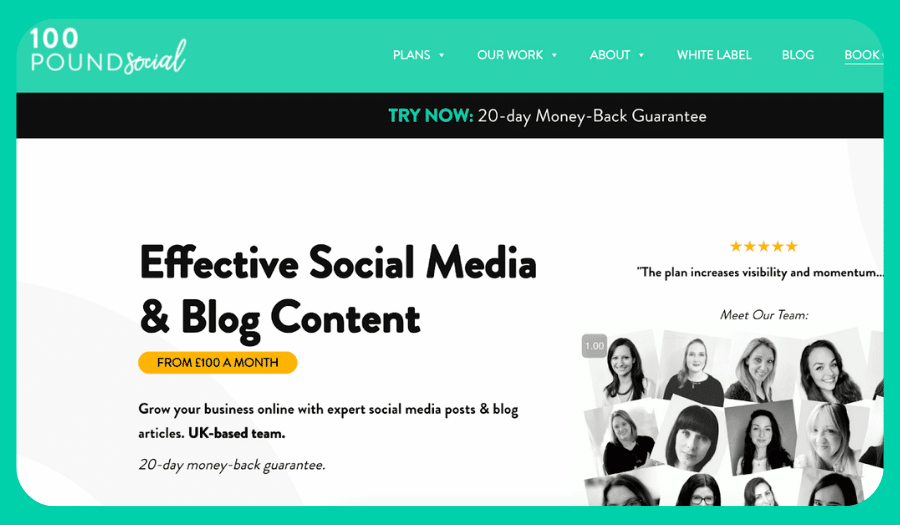 Uses:
100 Pound Social's team of experts can handle social media marketing for your business, all in one place. This includes post creation, scheduling, image sourcing, and blog writing.
For business owners who don't have the time to take care of their social media in-house, 100 Pound Social offers an affordable solution, using a handpicked team of expert, UK-based writers and editors to produce quality content for any industry.
Pros:
An all-round solution for content creation, blog writing, publishing, and everything else related to social media.
Our team are experts at what they do, so you can be confident that your social media profiles are in good hands.
Cons:
We work hard to create your posts based on the information gathered in the onboarding forms, which requires some input from you. It's critical to get this right the first time so that we create posts that get off to a flying start. Find out more about our onboarding process here.
Pricing: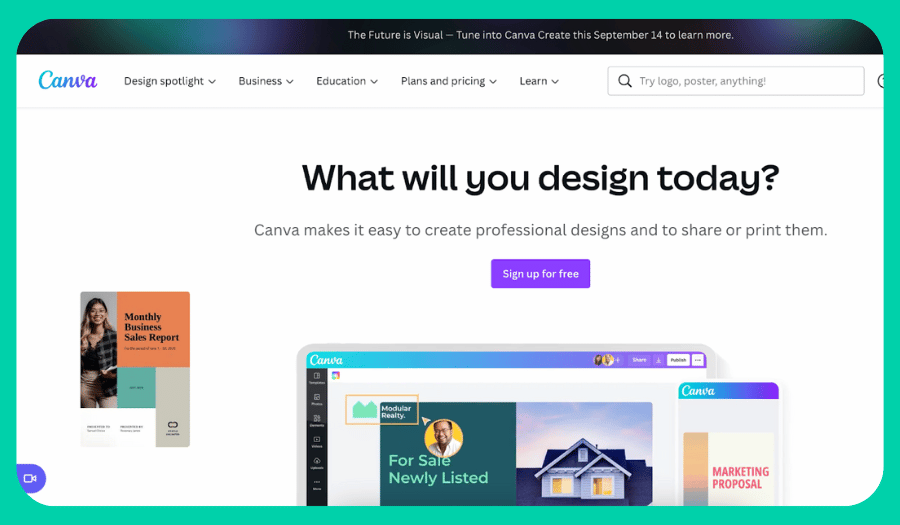 Uses:
Whether creating testimonial graphics for LinkedIn, or designing an ebook cover for your latest free download, Canva is a popular choice for small businesses looking for easy-to-use design tools.
Pros:
The interface is very user-friendly and intuitive.
There is a wide range of templates available for various social media platforms.
You can easily collaborate with other team members on Canva projects.
Cons:
Some users find that the free version of Canva is too limited (especially when it comes to the media library).
Canva can be a bit overwhelming when it comes to navigating the different design options.
Pricing:
There is a free version that offers various features. The paid prices are as follows:
Canva Pro: £ 99 per year
Canva For Teams: £ 129 per year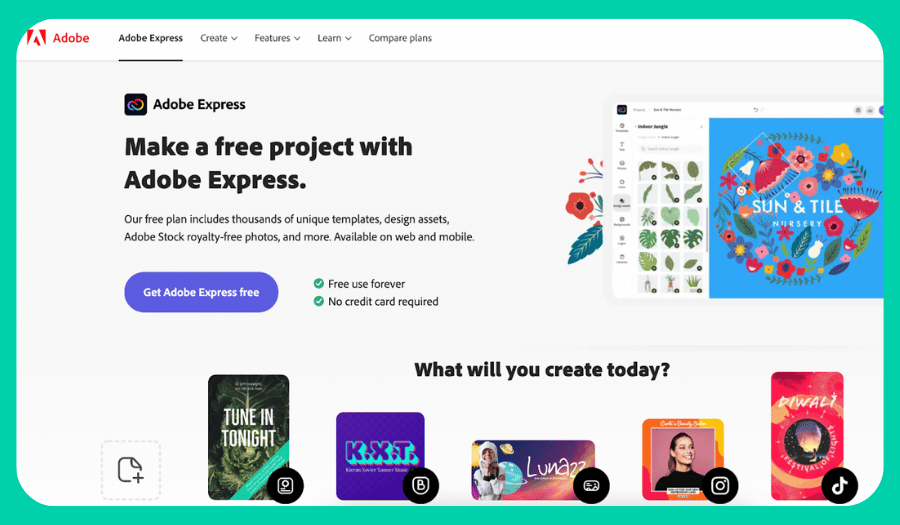 Uses:
With similar features to Canva, Adobe Express also allows users to plan and post their content on social media platforms. This allows you to use a single tool for your content creation and publishing needs, saving you precious time in the process.
Pros:
You can easily create high-quality visuals with Adobe Express.
The interface is user-friendly and easy to navigate.
Cons:
Adobe Express may be a bit on the expensive side for small businesses.
Some users might not need the extra functionality that Adobe Express offers.
Pricing:
With a free version available, there is also a premium version that comes in at $9.99/mo.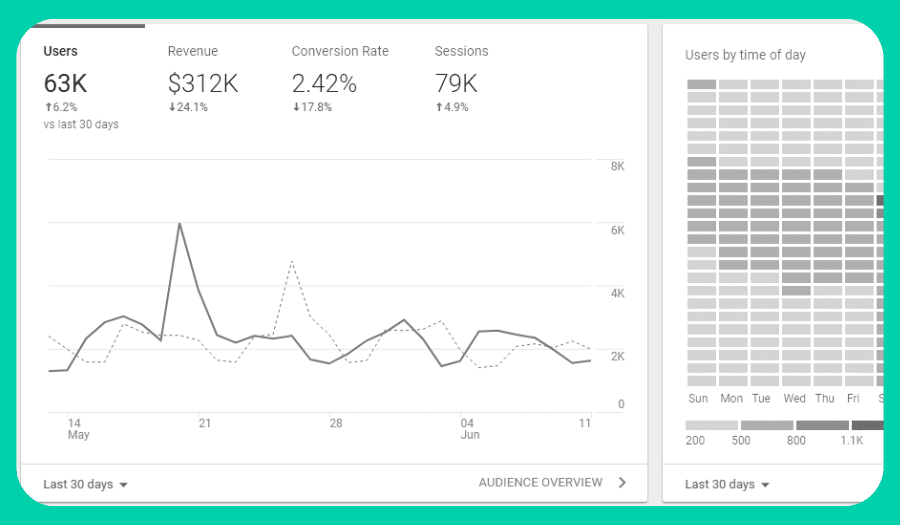 Uses:
When tracking the success of your social media campaigns, Google Analytics is a valuable tool. You can use GA to track things like pageviews, unique visitors, and time spent on site. This ensures that people visiting your site through social media are engaging with your content in the right ways.
Pros:
Google Analytics is a really comprehensive tool that can track a variety of metrics to help guide your social media strategy.
It's free to use, which is a great bonus compared to much pricier options.
Cons:
Getting your head around Google Analytics can take some time.
Some features are also pretty advanced for small businesses that just want to track basic social media metrics.
Pricing:
Free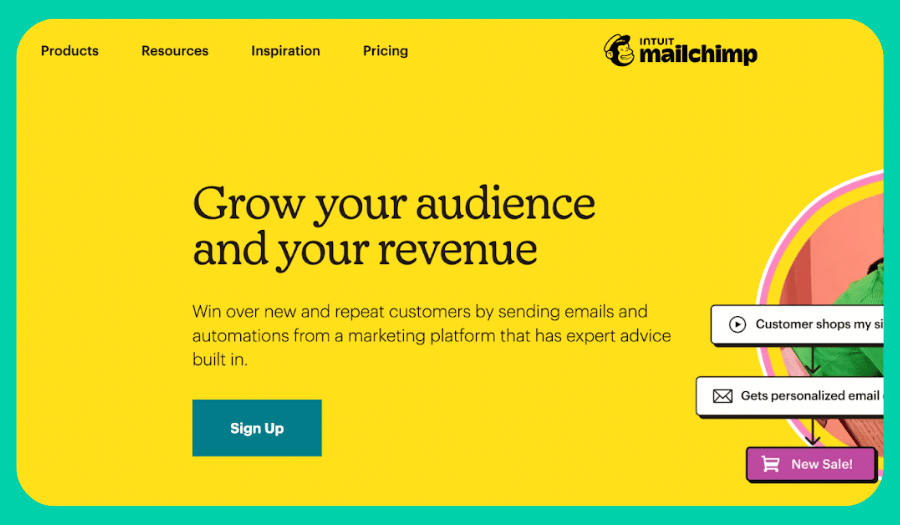 Uses:
Mailchimp is a popular tool among small businesses, and for a good reason. In addition to being really affordable, Mailchimp has many useful features, such as email automation, landing pages, and eCommerce integrations.
Pros:
Mailchimp is very affordable, especially for small businesses.
The platform is very user-friendly and easy to navigate.
The email automation feature can really help you save you time – once you've got it set up correctly.
Cons:
The free version of Mailchimp is a bit limited.
Setting up some of the automation based on triggers can be a bit tricky for first-time users.
Pricing:
Mailchimp comes with the following pricing plans:
Free: £0 per month
Essentials: £10 per month
Standard: £15 per month
Premium: £260 per month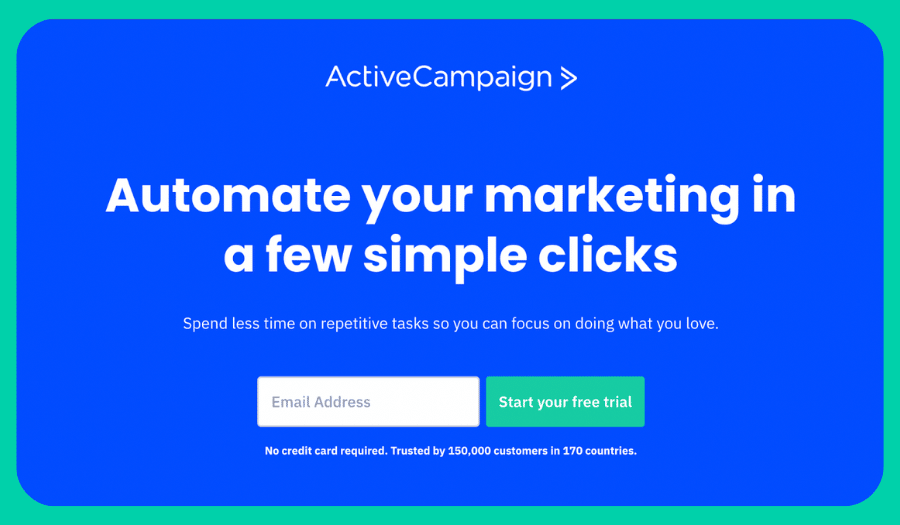 Uses:
When it comes to social media marketing, ActiveCampaign is a tool that can't be beaten. It allows you to easily integrate with several social media platforms, capturing leads directly into your CRM for later use.
Their top-notch email platform allows you to create highly personalised and segmented emails for your different customer personas.
We use ActiveCampaign ourselves for our mailing list and website forms, allowing us to easily connect with individuals who are interested in our newsletters, services, and blog posts.
Pros:
ActiveCampaign uses advanced segmentation to target your audience.
The automation features are robust, and can be customised to fit the needs of your business. For example, we use it to help grow our mailing list by setting up automations for our free downloadable resources.
Cons:
The price can be a bit steep for small businesses.
Some features might be overkill for businesses that just want to send out simple newsletters.
Pricing:
Lite: $29/mo
Plus: $49/mo
Professional: $149/mo
Enterprise: Customised fee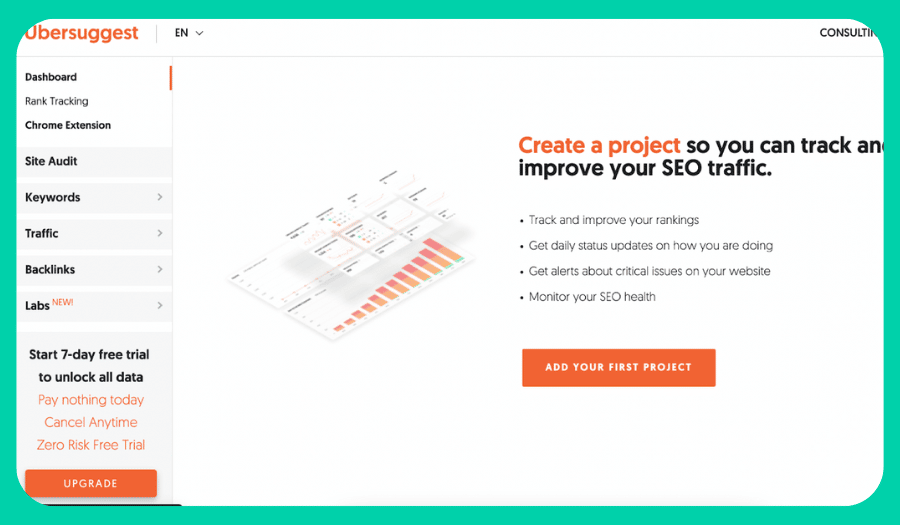 Uses:
Ubersuggest is a keyword research tool that can help you develop ideas for content, social media campaigns, and more. Using Ubersuggest, you can see which keywords are being searched for the most and get ideas for new content topics.
SEO is important when it comes to blogging because you want your blog articles to show up in search engine results. This way, more people will see them and might be interested in reading them. You can use a tool like Ubersuggest to help you come up with ideas for blog articles that people are likely to search for.
In our blog articles, we follow SEO practices that help our articles show up in search engine results. We also use tools like Ubersuggest (and other keyword research tools) to come up with ideas for new content topics.
Pros:
Ubersuggest allows businesses to stay ahead of the competition by seeing which keywords such competitors are ranking for.
The keyword data provided is quite accurate.
Cons:
The information provided in the free version can be a bit limited.
The customer service on the platform is not always the most responsive.
Pricing:
Individual: £29 per month
Business: £49 per month
Enterprise / Agency: £99 per month
9. Native Schedulers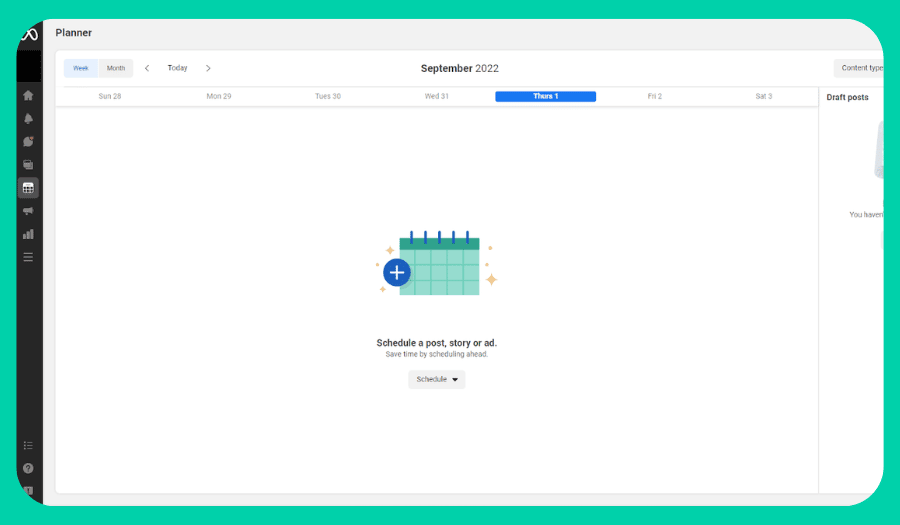 Uses:
Facebook, Instagram and Twitter do offer native social schedulers that allow you to post content ahead of time.
However, they generally limit you to one network per post and they don't offer the ability to cross-post or repost content.
That is where tools such as HeyOrca come in. They enable you to create and schedule content for multiple networks at the same time, which is a huge time-saver as you can create all your content in one go, and have it automatically posted throughout the week.
Pros:
Native schedulers are offered for free by the social media platforms.
They are easy to use and don't require any additional training.
You can typically post content directly from your computer or phone.
Cons:
You can generally only schedule content for one social media platform at a time.
Pricing:
These tools are generally free.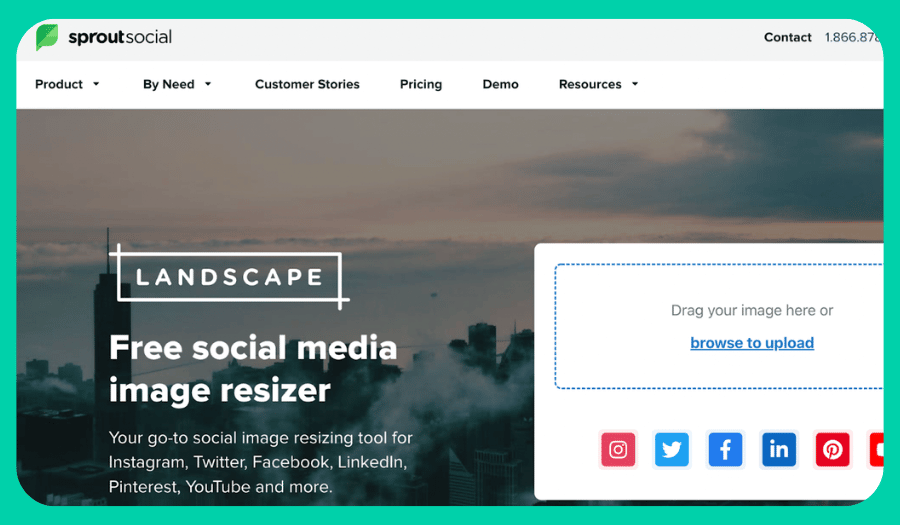 Uses:
This image resizer has been designed specifically for social media posts, and allows users to create images that are the perfect size for each social media platform. With Landscape, you can upload a picture and then resize it with just a few clicks.
Pros:
There is no need to create separate images for each social media site from scratch.
The resize feature is quick and easy to use.
Cons:
The image quality can sometimes be diminished when you upscale an image.
You have to consistently pay for the app even if you only use it once in a while.
Pricing:
Standard: $89 per user/month
Professional: $149 per user/month
Advanced: $249 per user/month
All of these are billed annually.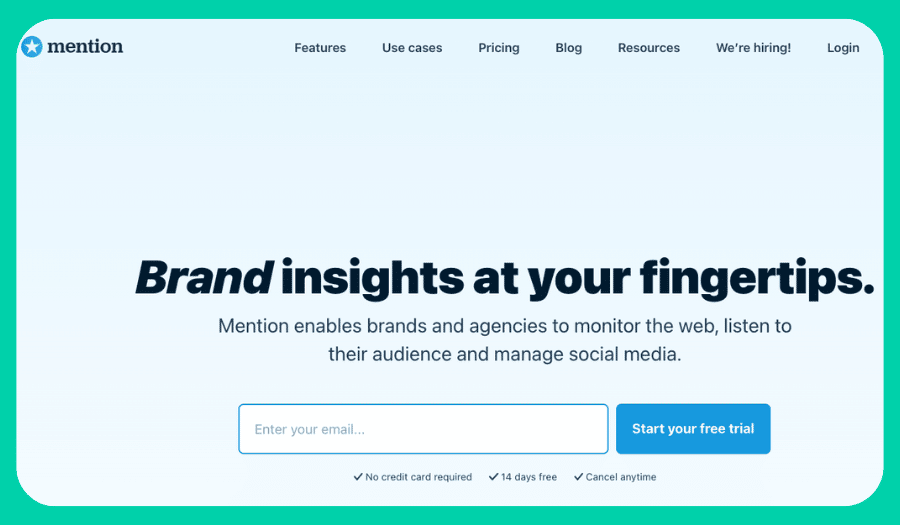 Uses:
Do you want to know what others are saying about your brand online? Mention is a social media monitoring tool that can track mentions of your business across the web, including social media, news sites, and blogs.
With Mention, you can see what people are saying in real-time, and get insights into how your brand is perceived.
Pros:
Mention has a lot of useful features, including real-time monitoring, insights, and alerts.
No setup fees are involved.
Cons:
Listening to the right channels is key to getting accurate results from Mention.
There's a risk of being overwhelmed by all the tracked mentions if you're not careful.
Pricing:
Free: £0
Solo: £25
Pro: £79
ProPlus: £179
Company: Custom pricing is available
Choosing a Suitable Social Media Tool for Your Business
Social media marketing is a necessary part of any small business's marketing strategy. Using the right social media tools can save time, money, and effort, while effectively promoting your brand.
The tools mentioned here can help you get the most out of social media marketing, but if you're still looking for more, why not download our collection of free marketing tools? These 100+ Free Marketing Tools for Entrepreneurs are designed to help you save time and money while growing your business, and give you a leg-up ahead of your competition.
Social Media Management for Small Businesses
Creating on-point social media campaigns can lead to a boost in brand awareness, and could even help you to close more sales. However, as a small business owner, you might not have the time or resources to dedicate as much time to social media marketing that your business needs.
100 Pound Social can help. We work with small businesses across all industries to implement and improve their social media strategy, from post creation and scheduling, to search-engine-optimised blog articles.
With our Posts Plan, we create high-quality content that will engage your audience and help to grow your brand. If you're unsure where to start with social media, our team can also provide you with a free customised plan to help you get the most out of your social media platforms.
We also offer a Blog Articles Plan, created for those who want to attract more organic traffic to their website through carefully written and researched blog articles. Our team of writers will produce high-quality blog posts that are optimised for your chosen keywords, helping you to rank higher on search engine results pages.
| | |
| --- | --- |
| Posts Plan  | Blog Articles Plan |
| Engaging social media content crafted specifically for your business by your dedicated UK-based Content Creator and Editor team. | Supercharge your social media & SEO content marketing with expert blog articles crafted by your dedicated UK-based writers. |
| Get started now | See more here |