Why Is Social Media Important for Businesses?
Social media is an integral part of our lives, so it makes sense that a B2B social media strategy should be an integral part of your company's marketing plan.
As of July 2021, there were a reported 4.48 billion social media users globally. To put it in perspective, this is equal to 57% of the world's population.
This number only continues to grow, with 520 million new users joining social media in the year prior to July 2021.
If your business isn't using B2B social media marketing to reach out to your customers, your competition is almost certainly reaping the benefits.
In fact, 83% of B2B marketers now use social media content as part of their marketing strategy.
The question isn't if you should be using social media for your B2B marketing, but how?
Having the right B2B social media strategy goes beyond keeping up with your competition. It can help you increase sales, and boost your overall online presence and audience engagement.
With tailored and creative campaigns, you can promote your brand to a targeted business audience.
Setting Social Media Marketing Goals
A successful social media marketing strategy starts with setting the right goals.
Four Common B2B Social Media Marketing Goals are:
1. Brand awareness
2. Lead generation through product or service education
3. Conversions of both existing and new customers
4. Building trust and credibility with customer reviews and referrals
The best B2B marketing strategies align an organisation's social media goals with an overall business strategy.
For example, if you're a start-up looking to get your name out there, you should initially focus your social media marketing strategy on brand awareness.
It is important to plan and execute your B2B social media marketing strategy consistently. By posting often, you're more visible to potential customers, because social media platform algorithms favour regular activity.
Soon your audience will come to expect (and look forward to!) your content.
The Best Social Media Channels for B2Bs
While every social media platform has its advantages, disadvantages, and etiquette rules, there are four main platforms favoured by B2B marketers. Each can be used at different stages of the marketing funnel. They are:

LinkedIn

Twitter

Facebook

Instagram
LinkedIn isn't just for growing your business network or job searches! With 774 million users across 200 countries and regions it's the best platform for B2B marketing.
96% of B2B content marketers say they've used LinkedIn for organic social media in the past 12 months.
Because the platform was built for networking, it's a great place to showcase your brand's expertise and establish yourself as a thought leader in your industry.
Remember to use the right hashtags too. This way, users who aren't familiar with your brand can find you on LinkedIn.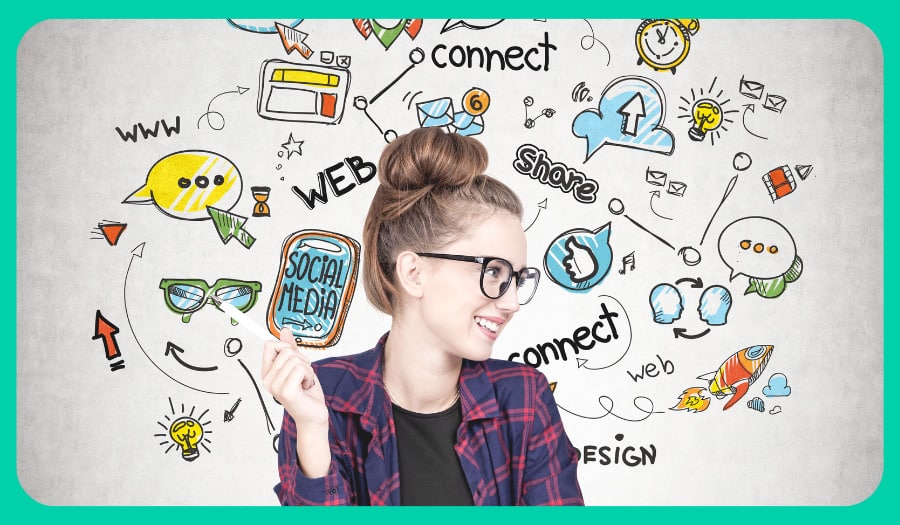 Using Social Media to Connect With Your Customers
Consumers usually come into contact with your brand multiple times before they choose to make a purchase. Therefore, you need to leverage value-adding content to build relationships with your prospects.
Your content also needs to be insightful and relevant in order to stand out.
One of the most common reasons why social media strategies fail is because they are considered outbound marketing. However, they should be thought of as an inbound marketing tool.
Don't forget that social media platforms are all about connections. This can help you put your customers at the centre of your campaign, and encourage interaction and engagement with your audience.
This kind of engagement also builds 'social proof' around your product or service, in the form of reviews or comments.
If you get this right, the first thing potential customers will see when they visit your social media profiles is other consumers raving about your brand. However, this will be in a way that's naturally promotional rather than "salesy". Optimising Your B2B Social Media Marketing Strategy
One thing to remember about having a successful social media strategy is that it isn't about an end goal. B2B social media marketing is a journey.
This means you need to be constantly reviewing your strategies, including assessing what is (and isn't!) working by monitoring your analytics. As new platforms emerge, you may also want to consider producing content for these audiences.
You can also get the most out of your social media marketing investment by outsourcing this to an agency. Social media marketing agencies are experts in content creation, social media management, and lead generation.
With advanced tools and specialised skills, a social media agency can get the most out of your social media analytics to help plan your future social media strategy.
Free Up Your Time With Expert B2B Social Media Management
With 100 Pound Social you'll be paired with with a dedicated Customer Success Manager, and a Content Creator and Editor who are knowledgeable in your industry's niche.
| | |
| --- | --- |
| Posts Plan  | Blog Articles Plan |
| Engaging social media content crafted specifically for your business by your dedicated UK-based Content Creator and Editor team. | Supercharge your social media & SEO content marketing with expert blog articles crafted by your dedicated UK-based writers. |
| | See more here |
Book a demo call for more information on our services and to learn which of our plans is right for your business.