What are Social Media Marketing Metrics?
Social media is a key part of your wider marketing strategy. It's business-critical to understand the impact of your social media strategy and how to measure social media marketing performance.
So, what are metrics in social media marketing? They're the data and statistics used to assess the impact of your social media campaigns. Tracking your metrics across social media can help you make data-informed, strategic decisions to optimise your social media marketing and ultimately improve ROI and your bottom line.
All well and good, we hear you say — but how do you get started? And what are the key metrics in social media marketing?
Don't worry — we'll explain which social media metrics to measure. But first, let's look at why metrics matter. Why Social Media Marketing Metrics are Important
Social media metrics help to measure the value of your social media marketing efforts. The data and stats you gather from the platforms you use give you awareness of your social media performance and the status of your overall marketing goals.
There are several other benefits. Analysing your social media metrics can help you:
So, where do you find these all-important metrics? Read on…
Where to Find Engagement Metrics
Google Analytics is perhaps the most comprehensive free analytics software tool available. It might look slightly terrifying at first glance, but it's surprisingly user-friendly. Google also provides a number of free online courses to help you get to grips with the platform.
Checking engagement on your social media platforms is also straightforward. For the purposes of this article, we're going to concentrate on the 'Big Four' B2B marketing-friendly social media platforms — LinkedIn, Facebook, Twitter, and Instagram.
Platform
How To Access Insights
Useful Info
LinkedIn
Sign in to the admin centre for your page. Click the Analytics tab in the menu. Select Updates, Followers, or Visitors from the dropdown menu.
Page analytics are only visible to page admins or people with "analyst" access. You can view metrics for a specific post by clicking Show Stats in the bottom right corner of a post. You can also track profile analytics.
Facebook
Click the Insights tab in the menu bar across the top of your Facebook Page.
You can only access data in Page Insights for the last two years, and demographic data is only available once there's data for over 100 people.
Twitter
Log in to your Twitter account and head to the Tweet Activity Dashboard.
You can see how people engage with your Tweet in 'real time' and compare activity and followers between Tweets.
You can also click on any individual Tweet to get a more detailed breakdown of metrics.
Instagram
You can only access insights on the mobile app. Click on the menu icon in the upper-right corner, then choose Insights.
You need a Business profile to access insights — if you're currently using a personal one, you'll need to convert.
Social Media Metrics You Should be Tracking
What do you really want to achieve from your social media marketing?
Once you've established the answer to this, it will help you to decide your areas of focus when it comes to metrics.
If you're a fairly new company, examples of social media metrics you choose to focus on could be reach and audience demographics to build brand awareness.
A more established company looking to boost customer loyalty and decrease churn might focus on an analysis of engagement metrics.
With social media marketing, it's all about figuring out the end goals and breaking these down into smaller, more actionable steps. Having an end goal established helps you keep it in clear sight, preventing you from wasting time focusing on the wrong stats in the wrong areas.
In our humble opinion, there are seven metrics that every social media marketer should know inside out. Let's explore these in more detail.
Followers
Follower growth is the most visible signal that your business is gaining traction on social media. A follow or like shows someone has taken an interest in your content, and by proxy, your business. Follower numbers can be found on your social media profile pages, and it's easy to track numbers and changes.
Patience is of the essence. Follower growth (or any type of social media growth) doesn't happen overnight and requires time and investment on your part — daily growth activities such as engagement with followers, as well as good social media management and regular, consistent posting.

Remember also that not all followers are equal — while it may be tempting to try to gain as many followers as humanly possible in those early days, 'inauthentic' followers such as bots, mass followers, and empty 'spam' accounts can do more harm than good.
Likes and Comments
Your audience 'liking' a post helps you understand which types of posts perform best and which topics resonate the most.
Comments are an even better metric. They hold more weight — by commenting, someone is putting more effort into their engagement with your post than simply liking and then continuing to scroll.
Social media is designed to be exactly that — social! If your posts generate conversations and debates, it's a clear sign your social media strategy is working.
Comments can also help you weed out topics your audience doesn't find useful, as well as highlight the topics you should bookmark to focus on in the future.
You can take this further with social media listening, going beyond just tracking comments on your own posts and digging deeper into what people are saying about your business in the wider social media universe.
Monitoring any mentions of your business alone is useful, but going further and comparing your data to competitors can help to highlight opportunities for improvement.
Shares and Saves
Shares are also an important engagement metric to monitor. If someone likes or relates to your post so much that they want to share it, they're not only highly engaged but also promoting you to their wider communities. This type of 'social proof' can be instrumental in building your following.
Try to motivate followers and customers to create user-generated content to promote your business, or shout you out for a great product or service. In other words, try as much as you can to encourage positive mentions of your profile — promotions and competitions can be useful here.
Saving a post indicates the reader has found it highly valuable, enough so that they want to come back to it later and re-engage. To encourage saves, think of value-added, educational content that they will want to come back to time and time again.
Clicks
Sometimes a post can perform really well – but get zero likes or comments. There are certain posts that users don't like publicly commenting on, but they'll happily click through the link in the post to find out more.
This is why checking your click rates is important. That post promoting the amazingly witty blog article you published last month may have only received a few likes, but it could have driven a wad of traffic to your website.
Keeping track of clicks is an easy-to-measure metric that can help you to identify improvements to your content and give you an idea of any areas you need to work on to improve your social media engagement rate. Start to notice spikes in clicks? Examining the metrics should help you quickly establish what types of content are causing the surge in clicks.
Reach and Impressions
Many people get confused between reach and impressions and even use the terms interchangeably.
Impressions are the total amount of views your content receives.
Reach is the unique amount of views your content receives.
Reach tells you how many people your content has found its way to. It's an older marketing metric but still important for measuring your success on social media. If you're aiming to scale your social campaigns and nab a larger market share against your rival, reach can help you monitor your progress.
When users engage with your social posts, this activity is shared with their connections, and your post will likely show up on their connection's feeds too. This increases your reach.
Impressions tell you how many times your post was viewed. This might include the same person looking at the post multiple times, but it can give you an idea of the type of content that resonates best with your ideal audience.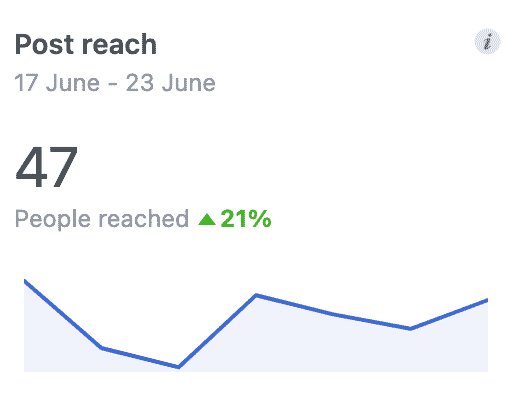 Audience Demographics
Understanding your social media audience demographic is critical — this can influence your entire social media marketing strategy.
Invest time in learning as much as possible about your audience. This helps you tweak and adjust your strategy accordingly, as well as create more engaging content by knowing your audience's preferences.
The main areas to analyse are socio-demographic data, customer-persona characteristics, and social media habits, for example:
Gender
Age
Location
Pain points
Days and time when most active
Preferred platforms
Tracking audience metrics also helps you determine whether your target audience is engaging with your content. If your customers are primarily 45 to 55-year-old men who live in London, but your social media following is mainly made up of women aged between 20 and 50 from across the globe, you have an audience alignment issue!
Referral Traffic
Where do your website leads come from? This is an important metric to measure and is simpler to keep track of than you might think.
Again, our friend Google Analytics can help. You can easily measure your website traffic against your website conversions, meaning you can track which sources are referring traffic to your website and which sources of traffic are most likely to convert into leads.
Google Analytics essentially provides a (free!) treasure trove of information. You can also use your Google Analytics 'Acquisition' data to find out how your social media traffic performs once it arrives on your website.
Measuring Your Engagement Rate
Engagement metrics are perhaps the most important metrics you need to be tracking across your social media accounts. In general, this metric affects the ranking of content that will be shown to users. Increasing this metric means your account will appear in your follower's feed more often.
You can calculate engagement rates on social media in two ways — on a 'per publication' basis or using the total engagement for the account in question over a period of time. Considering engagement per publication helps you understand which posts get the best response. On the other hand, total account engagement rates let you view the big picture, helping you understand how well your current strategy is working as a whole.
One of the bonuses of your social media engagement rate is that it's always relative to the size of your following. Essentially, you can compare an audience of 1000 to one of 100,000 with unbiased results.
How to Measure Engagement on Social Media
The engagement rate is usually calculated through a simple three-step process:
Take the total number of interactions your content receives
Divide by your total number of followers
Multiply by 100%
There are also handy online tools you can use, like this one, to calculate LinkedIn engagement.
Because you're factoring out the number of followers, calculating your engagement rate in this way provides an honest assessment of the quality of your content. As an example, if a brand has thousands of followers but only receives a few interactions per post, it's unlikely they're producing high-quality content.
What's a Good Engagement Rate?
To determine if your engagement rate is good (or bad!), you need to benchmark it against another goal or KPI. Again, start by asking yourself what your end goal is. Then you can look at measuring in terms of (for example):
How content performs in a set time period
How your posts compare against key competitors
Social media engagement performance for your industry in general
Your performance across different social media platforms
This is really one of those 'how long is a piece of string' questions — the definition of a 'good' engagement rate for your business will vary according to your unique strategies and goals.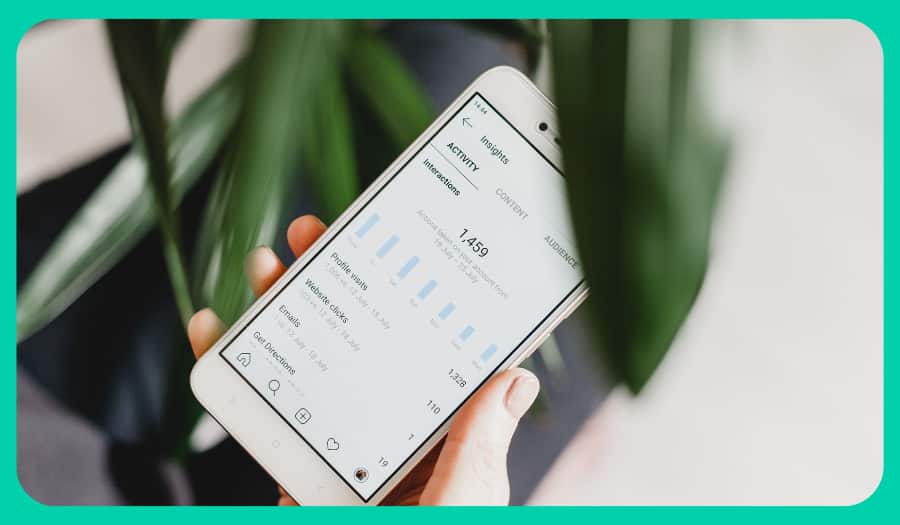 How to Track Engagement on Social Media
Before diving into the individual metrics to include in your social media marketing report, you first need a document to store your data.
This could be your project management software, but sometimes it's easier to create a simple spreadsheet (like a Google or Excel sheet) to track your data. Doing this also makes it easy to share your findings with your team and make use of live edits and comments.
You might also find our Social Media Engagement Checklist useful — this handy free download lays out step-by-step instructions to increase your engagement on social media and get more likes, comments, and followers.
Tools for Tracking Social Media Engagement
Using only 'native' analytical tools is a great place to start, particularly if you're on a budget. However, this limits what you can learn about your social presence.
Third-party, multi-purpose social media analytics tools provide you with more data and take away the need to flit between platforms to get the necessary figures.
Here are some of our favourites:
Tool
Platforms
Free Insights/Features
Pricing
Google Analytics
Facebook
Twitter
Instagram
LinkedIn
YouTube
Social referral traffic
Social traffic flow
Social conversions
Free
Hootsuite
Facebook
Instagram
YouTube
LinkedIn
Twitter
Overview of key metrics
Unlimited real-time reports
Team performance measurement
30-day free trial, plans from £39/mo
Zoho Social
Facebook
Instagram
LinkedIn
Twitter
Statistics for individual posts
Analytics for content type, best time to post, and more
15-day free trial, plans from £8/mo
Sendible
Facebook
Twitter
Instagram
LinkedIn
YouTube
Report builder
Reports for each social media channel
30-day free trial, plans from £21/mo
Iconosquare
Facebook
Instagram
LinkedIn
Twitter
Advanced analytics
Competitor and hashtag tracking
Industry benchmarks
Facebook account audits
Instagram account audits
14-day free trial, plans from £49/mo
How to Maintain a Regular Presence on Social Media
If lack of time is preventing you from building a social media strategy in the first place, 100 Pound Social can help by offering expert social media management and SEO-optimised Blog Article packages.
Niche business? We're up to the challenge. We work with over 200 businesses from the UK and across the globe in a huge range of industries, sectors, and specialities.
Book a call today, or hop on to one of our free, interactive demos!
POSTS PLAN
from £100 (+VAT) per month
Dedicated UK-based Content Creator & Editor
Regular handcrafted posts each week
Dedicated Customer Success Manager
Add extra posts and platforms
Get started now