Does Your Business Have a Social Media Strategy?
If your answer is no, then you're missing out on the chance to sell to over 4.4 billion online prospects. You might also be losing out on the opportunity to build and write your own success stories.
Currently, global social media reach is at just over 50%. In addition, social media use has grown by over 13% in the last year.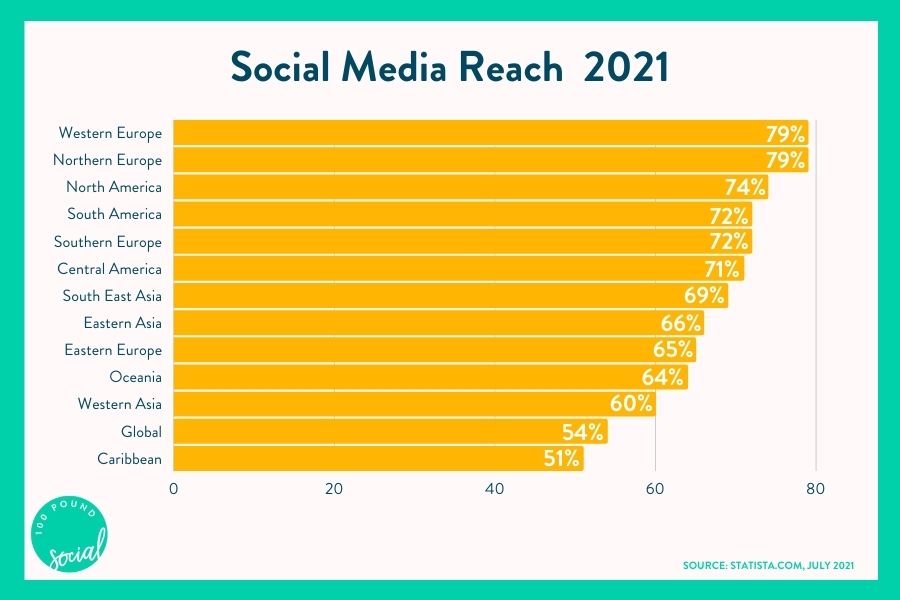 Therefore, it's clear why you need an excellent social media marketing strategy to generate leads and close sales.
This article will walk you through planning and reviewing a winning social media strategy. It will also teach you about the best platforms, types of content, tools, and metrics to help you succeed.
Pick Ideal Niche Social Media Marketing Platforms
Marketing on social media is a bit like fishing. There's a whole ocean to cast your nets in – however, you can still fail to catch fish! If you're unwise, you'll waste time, energy, and resources, and go home empty-handed.
The same applies to niche social media marketing. There are over 17 popular social media platforms to choose from. Not all of them are suitable for B2B campaigns, however.
Take a look at what the most B2B- friendly social networks offer below:
LinkedIn
Over 740 million users and more than 55 million companies.
The perfect network for almost all types of B2B strategy.
Best for driving traffic and marketing to mature audiences aged 30 to 49.
Facebook
Ideal for long-form and short-form social media marketing news posts.
Facebook hosts over 200 million businesses and more than 1.8 billion daily users.
It has B2B marketing options, and integrates with Instagram.
Twitter
Good for short content publications, images, and videos.
There are more than 330 million monthly users.
It's great for re-marketing, reaching interested prospects, and customer support.
Instagram
Over 1 billion users.
Integrates hashtags to generate business engagement.
Handy for B2B campaigns targeting people aged 25 to 34.
YouTube
Widely used for video content and webinars.
More than 2 billion monthly users.
Requires Search Engine Optimisation (SEO) to rank content.
Demos, tips, and how-to videos perform well. Research Your Target Audience
Researching the interests of your target audience is crucial. Not only will it help you to understand your market and prospects inside out, it will also boost your chances of success.
99% of your audience will use a mobile phone to search for solutions online. This is why it's important to find out what they want, and identify their desires and pain points.
It's also a good idea to monitor your competitors' online presence. The insight you gather will help you create a stellar B2B social media campaign strategy.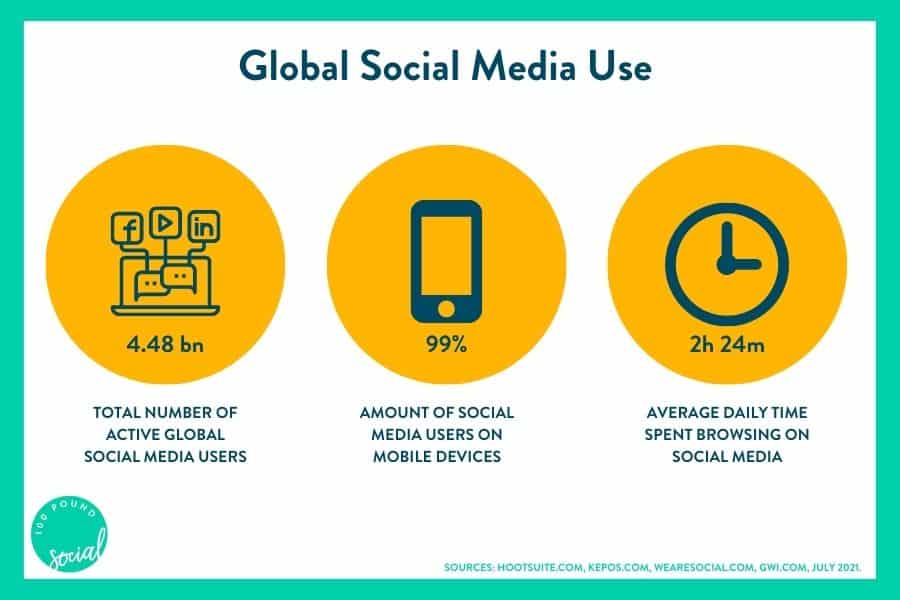 How can you research without breaking a sweat?
Conduct surveys.
Use social media marketing tools to collect feedback.
Reply to comments or questions on social media and blogs.
Participate in forums where your target audience hangs out.
Plan Your Social Media Content
The type of social media posts you create depends on their purpose and the platform used. Therefore it's important to think through your content before uploading it. What you post will impact your strategy's success rate.

This is the reason why planning your social media content is critical. Doing this will give your marketing strategy consistency and continuity, and contribute to a smooth workflow. You'll be able to routinely post content, and also have time to respond to your followers.
It will also help you to track your campaign's performance, and identify areas of improvement.
Types of Content for Your B2B Strategy
Different types of content are better suited to specific social media platforms.
Check out the breakdown below:
Content
Description
Social media platforms
Blog posts/ articles
Ideal for 'teaching' your audience and generating organic traffic.
LinkedIn
(40,000 characters max)
Facebook
(63,206 characters max)
Instagram
(2200 characters max)

Case studies
They are best for highlighting customers' stories and achievements.
LinkedIn
Facebook
Instagram
White papers
These help to outline problems and solutions.
LinkedIn
Facebook
Instagram
Testimonials/
reviews
Great for persuading potential customers without sounding pushy.
LinkedIn
Facebook
Instagram
Videos
Help highlight how a product works.
LinkedIn
(10 minutes)
Facebook
(120 minutes max)
Twitter
(2minutes 20 seconds max)
Instagram
(60 seconds)
YouTube
(12 hours)
Live videos
Best for hosting webinars.
Facebook
(8 hours)
Instagram
(60 minutes)
YouTube
(12 hours)
LinkedIn
(4 hours)
YouTube
(12 hours)
Infographics/
images
Perfect for conveying short messages or statistics.
LinkedIn
Facebook
Twitter
Instagram
YouTube
Video stories
(They last 24 hours)

Ideal for short videos.
Facebook
(20 seconds)
Instagram
(15 seconds)
Twitter
(30 seconds)
YouTube
(15 seconds)
LinkedIn
(20 seconds)
B2B Content Creation Framework Tips
Use hashtags and links.
Use industry-specific terminology.
Create captivating sales copy.
Use social media post tools to schedule posts.
Write brief descriptions for video content.
Focus on winning your customers' confidence.
Identify the purpose of your content and repurpose it if necessary.
Audit Your Strategy for Sales Success and Objective
Niche social media marketing can be confusing. However, auditing your business goals can help you to track your success and stay focused.
Primary objectives for a successful B2B business include:
Improving sales.
Attracting traffic.
Retaining customers.
Increasing authority.
Raising brand awareness.
Boosting customer support and loyalty.
The next step is to align your social media strategy for sales based on your prospects' behaviours and expectations. This one of the top things your business needs to do to succeed on social media.
To avoid confusion, take a look at the differences between B2B and B2C objectives:
| Business-to-Busines | Business-to-Customer |
| --- | --- |
| Involves related companies | Involve sellers and end-users |
| Top of the supply chain (manufacturer/wholesaler) | Lower in the supply chain (retailers) |
| Brand recognition matters | Product branding matters |
| Rationally driven on investment worthiness | Emotionally driven on the need for a product |
| Niche market (customer demographic matters) | Large scale market (customers are spread out) |
| Focus on building long-term relationships | Focus on building transactional relationships |
| Keen on customer personalities and needs | Keen on product efficiency and success |
| Focus on lead generation and repeat sales | Focus on product awareness and closing sales |
| Continuous interactions with buyers | Minimal interactions with customers |
Create Social Media Strategy Targets for Business Growth and Gains
Be SMART. You need concrete social goals that align with your business. An excellent way to achieve that is to write them down.

Be specific with your goals. Identify what you want from the start. Is it traffic, leads, sales, or brand engagement?
Make measurable goals. Define the amount of the specific goals you want. Is it 1,000, 5,000, or 10,000?
Make achievable goals. Be realistic whether your goals are attainable. Ask yourself why you think they are possible. You can request an expert social media agency to help you with a social media strategy example or template.
Be relevant. What are your B2B niches? Note them and align your social media strategy for business gains.
Be time-bound. Set a deadline to gauge your performance on the goals.
Track Meaningful Metrics With a Social Media Strategy Template
How well you track meaningful business metrics depends on your format. Every platform has a native analytics section and terms used.
A template for social media strategies will help you examine the metrics.
Here's a breakdown of some of the metrics you need for a niche social media marketing strategy:
| Metric | Track purpose | Indicators |
| --- | --- | --- |
| Engagement rate | Track how your audience interacts with your content, brand, or campaign. | Likes, comments, shares/retweets, and clicks |
| Customer care | Track the customer experience with your brand. | Response rate and time |
| Awareness | Tracks how your audience perceives your campaign, brand, or content. | Impressions and reach |
| Share of voice | Track how much of the online sphere your brand covers. | Sentiment and volume |
| ROI | Track how much money your brand, product, or campaign makes. | Conversions and referrals |
Utilise Social Media Tips and Industry Best Practices
B2B social media marketing can be tricky if you are unfamiliar with which tweaks and practices perform well. The following tips will help you reach and engage with a broader audience:
Run contests with a prize.
The key to a successful social media contest is to offer hard-to-resist giveaways. Use social media marketing tools to determine the winners, and use one or two of your favourite platforms to host and promote the contest.
Keep sales posts and tactics low.
More than 50% of prospects find promotional posts annoying. The secret to wooing social media prospects is to initiate question and answer sessions.
Get your audience to share your product.
Don't do the heavy lifting alone. You can offer extras or discounts to customers who share your post. That way, you'll reach more prospects.
Leverage more video content.
Video content is dynamic, and usable on all popular social media platforms. Social Media Today News notes 72% of customers prefer learning about a product by watching its video.
Timing matters.
Know when to post. This means staying updated on your audience's time zone, events, and holidays. Long-form content and webinars work well on weekends.
Make your responses timely.
Ignoring your audience will leave your sales social media strategy dead in the water. It also raises questions about your products' authenticity.
Follow examples.
Social media strategy examples are ideal for giving you a hint of what to do. Analyse the pros. Pick ideas and use them, but don't copy!
Adopt Advanced Social Media Strategies for a Sales Boost
Imagine this; you have a great product or service. You create mind-blowing content, yet no one wants to buy from you. The sales decline. You don't know why and how to redeem your social media marketing tactics. Your posts fail to engage with the audience. Now you feel demotivated and want to give up.
Don't give up just yet! Your sales social media strategy just lacks a touch of expertise. Here's what you need to do:
Use spot-on images.
Stunning photos are likeable, shareable, and intriguing. For example, well-crafted infographics catch your audience's attention and draw them in closer. You don't need graphic-designer prowess to find and use images. Free stock photo websites can save you the hassle.

Refocus your strategy.
You'll often miss the mark to close sales. Don't give up; shift your strategy to another platform.

Boost interactions.
Communication creates connections. Connections create opportunities. Engaging your social media followers is a smart move to increase your brand's traction and leads. Don't ignore questions.

Pin sales posts.
While it's wise to scale down on 'salesy' social media posts, pinning them at the top of your account can be a useful tactic to increase sales. This will help new followers land on your product once they open your profile.
Find Inspiration and Insights From Social Media
Social media marketing can feel like a never-ending battle. There are continually evolving trends and changes. Similarly, the dynamics and algorithms change from one day to the next. What works today may be useless tomorrow.
To find inspiration, you can:
Read trending marketing posts on social media.
Study analytics search metrics from keyword research tools.
Analyse the latest social media strategy examples within your niche.
Keep tabs with marketing topics on Pinterest boards.
Follow industry influencers on social media.
Ask marketing questions on Quora.
Read popular marketing topics on Google Trends.
Bookmark your favourite marketing sites.
Measure Results and ROI With Expert Social Media Management
Return on Investment (ROI) results from the amount of profit your campaign generates. For example, if your sales grow by £1000 and the campaign costs £200, then the ROI is 800%. This is handy for creating like-for-like comparisons in multiple campaigns.
Doing ROI calculations and creating social media promotion content takes time. Even then, you may produce content that doesn't quite hit the mark, or which might not get the results you planned for.
Why not call upon the knowledge and skills of an expert social media management team?
A social media management team can:
Cross-promote your products and services across different social networks.
Sort out the best social media tools to use on different platforms.
Schedule content.
Follow up on leads.
Find out which content works well for you and on which social platforms.
Research the right keywords to use on social media and blog post content.
Analyse social media metrics and the relevant tags to use.
Leverage a Results-Driven Expert Social Media Agency
Digital marketing skills are vital for creating a killer social media marketing strategy – helping you increase website traffic and generate more leads.
Of course, you can take the time to learn and develop those skills, if you want to work on a social media strategy by yourself. The challenge is whether you'll be consistent in creating content and responding to your followers.
Also, you may lack resources to generate leads and boost your business's engagement.
Why Not Free Up Your Time and Allow Someone Else to Manage Your Social Media Strategy For You?
This way, you can invest your time and energy into working on your business and making those important, business-critical decisions.
With an expert digital marketing team, you'll benefit from the input of creative, UK-based Content Creators and Editors who are knowledgeable in your industry's niche.
You can request a free social media plan here for your business to get things started.
There are a range of customisable subscriptions available for different niches and needs:
| | |
| --- | --- |
| Posts Plan  | Blog Articles Plan |
| Engaging social media content crafted specifically for your business by your dedicated UK-based Content Creator and Editor team. | Supercharge your social media & SEO content marketing with expert blog articles crafted by your dedicated UK-based writers. |
| Get started now | See more here |
Get started on your business growth journey with 100 Pound Social. Book a demo call today for more information on our services and to learn which of our plans is right for your business.