Does it ever feel like you're the only visitor to your Facebook Page? Do your carefully crafted posts regularly receive a grand total of zero Likes?
Don't worry, you're not alone.
Getting your posts in front of your ideal customers is getting harder as Facebook's organic reach falls (organic reach is the number of people who are shown Facebook Posts that you do not pay to boost.)
Instead of crossing your fingers and wishing for more Likes, next time you post to Facebook, follow these simple steps to increase the likelihood of your ideal customers liking and engaging with your post.
1. Post a link to your Facebook Post into relevant Facebook Groups
This may be controversial, but it does work.
Firstly, find and join Facebook Groups that your ideal customers are members of. For example, if you're a Business Consultant, join groups for entrepreneurs.
It may take a few days for your request to join these groups to be accepted.
After posting a Facebook post, click on the timestamp of the post: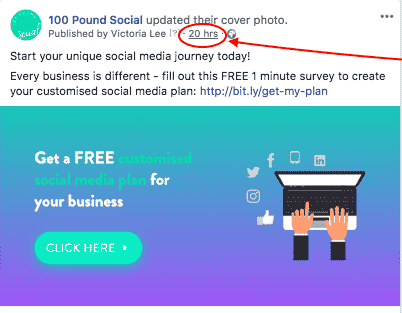 This will open the post in a new tab.
Now, go to your new Facebook Groups and share this link to your Facebook Post with the group.
Make sure your post provides value to the group members and is not overly promotional – group members don't like that.
Top tip: Don't forget to click on the list of people who have liked your Facebook Post and "invite" them to "Like" your Page!
2. Share your Facebook posts via your personal profile
The number of people who will see a post from your personal profile is much higher than the number that are shown posts from your Facebook Page.
Take advantage of this by sharing your Page posts via your personal profile.
3. Do a 'share for share' with another business that has a similar customers
This is easier than it sounds. Find a business on Facebook that shares your target market. For example, if you're a web designer targeting local small businesses, you might pair up with a local social media agency also targeting local businesses.
Drop this business a message on Facebook or via email asking them if they'd be open to a 'share for share'.
Explain that you will share a post from their Facebook Page to your Facebook Page, and in return they share a post from your Facebook Page to their Facebook Page.
That way, their audience are exposed to your business, and your audience are exposed to their business. It's a win, win!
4. Pay to "boost" your post
Set up an ad account of Facebook and pay to get your post in front of your ideal customers.
For as little as £5 your post could reach hundreds of potential customers.
The more users your post reaches, the more chance of your post receiving likes and engagement (comments, shares etc.)

Create a FREE customised social media plan for your business
Every business is different. Start your unique social media journey!
Social Media Strategy for Small Businesses Small business owners often struggle to create and manage an effective social media strategy. However, social media marketing has significant advantages for businesses of any size. It can be an incredibly effective way to...