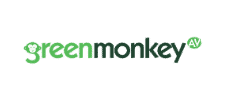 "You create excellent content with very little input from us."
If you need to do more on social media and don't have the time, we couldn't recommend 100 Pound Social highly enough.
We give hardly any guidance, yet the social media posts are consistently relevant and high quality.
You do see an upturn in web visitors and LinkedIn has been a great source of new enquiries for us.
We've had many contacts referencing our improvement on social media. We are definitely more active on social media now, which has the impact of growing followers and reach.
Elizabeth Downing
Green Monkey AV - Audio Visual Equipment