How 100 Pound Social Creates Niche Social Media Content For Cyber Security Recruiters Locke & McCloud
"In one year 100 Pound Social more than doubled visitor impressions on our LinkedIn page."
Industry
Cyber Security Recruitment
About
Locke & McCloud are cyber security recruitment experts.
Their aim is to help organisations protect themselves against the increasing cyber criminality, by providing them the highest calibre of cyber security specialists.
Thanks to their unique approach, Locke & McCloud have an established a client base in the UK, Europe and the US.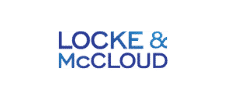 Challenges
As with many businesses, Locke & McCloud struggled to allocate time and resources towards maintaining their social media accounts.
Laura says: "Before working with 100 Pound Social, we had no social media presence. As a start-up, we had no time to dedicate to managing our social media."
To remedy this, Locke and McCloud signed up to the £100 Posts Plan in February 2019.
How 100 Pound Social helped
When Locke & McCloud started working with 100 Pound Social, the recruitment company wanted to increase the visitor impressions on their LinkedIn and Twitter pages.
"100 Pound Social knows how to maintain consistency and quality across a brand's different social media channels," says Laura.
Laura has seen how 100 Pound Social's content writers "adapt to every kind of business – even the most niche-focused."
In terms of customer support, Laura describes the support from 100 Pound Social as "flawless."
She says the company provides "reactivity, help, and kindness at any time!"
Results
"In one year, 100 Pound Social more than doubled visitor impressions on our LinkedIn page and increased our Twitter impressions by 122%," says Laura.
Since 100 Pound Social have been posting regularly for Locke & McCloud, Laura says the company's Twitter profile visits have increased "from three a month to an average of 40."
Laura recommends 100 Pound Social to "start-ups and small businesses who need high visibility on social media to generate leads."
She says: "If you want your social media management to be in good hands, I recommend 100 Pound Social.
The process is very simple, and the results guaranteed."
The Next Step
If you're ready to raise visibility of your company online and generate new business, we'd love for you to work with 100 Pound Social.
Click here to select a plan and sign-up.
To learn more, please grab a call slot:
Build a FREE social media plan for your business
Tell us a little about your business. Based on your answers, we'll create a FREE social media plan for you. No strings. Takes under 1 minute.