How 100 Pound Social helped FitSprint to scale their SaaS platform using social media
"I recommend this service to every business owner who wants to better understand their customers while scaling their product or service."
Industry
Software as a Service (SaaS)
About
FitSprint founder Maria Ferrer Lori is on a mission to give fitness instructors and personal trainers the digital presence they need to successfully run their business – without needing to spend hours tied to a computer.
FitSprint allows fitness professionals to easily publish a website and take online bookings, as well as providing the marketing and management tools instructors need to run a business successfully – all for a nominal monthly fee.
The seed stage startup is on track to serve 1.3 million US-based fitness instructors in 2019. Maria launched FitSprint (while pregnant with twins!) on the back of her own experience as a yoga and Zumba teacher.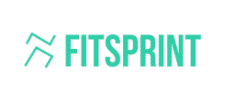 Challenges
In August 2017,  Maria decided she needed help managing FitSprint's social media pages.
She says: "Searching for content to post to our social media pages was really starting to get in my way of actually running the business.
"Then I got pregnant with twins… time suddenly became scarce so I started to search for an affordable and convenient way to outsource our social media.
"The affordability of 100 Pound Social caught my attention. £100 a month for social media made me do a double take."
How 100 Pound Social helped
Outsourcing their social media gave Maria and her team time to focus on getting the funding required to grow FitSprint.
In August 2017, Maria (then 6 months pregnant with twins) received £225,000 in funding from The Zag Seed Fund and Angel Investor Simon Wolanski.
"Our social media now runs itself perfectly," says Maria.
"I check our Facebook and Twitter feeds at the end of each day. I'm continually amazed at how 100 Pound Social has managed to understand our brand and customers so well. It's as if you were in-house!
"I've been able to learn a lot about our customers by seeing how our customers respond to the content 100 Pound Social shares – that's been very cool for me!"
After 12 months, FitSprint upgraded from the £100 Posts Plan to the £299 LinkedIn Lead Generation Plan.
Results
Maria says: "The real value of working with 100 Pound Social has been building our social media following and presence without letting this take up all of my time.
"After the first month on the £299 LinkedIn Lead Generation Plan, our SaaS platform was getting one new subscription a day.
"If you need to develop your presence on social media but don't have hours to spend looking for content, I really recommend using 100 Pound Social.
"The 100 Pound Social team is really supportive and always there to help you make this plan a success."
The Next Step
If you're ready to raise visibility of your company online and build up a powerful social media presence, we'd love for you to work with 100 Pound Social.
Click here to select a plan and sign-up.
To learn more, schedule a 1-2-1 discovery call:
Build a FREE social media plan for your business
Tell us a little about your business. Based on your answers, we'll create a FREE social media plan for you. No strings. Takes under 1 minute.