How courier software experts DA Systems increased demo requests with 100 Pound Social
"We are rapidly increasing our followers on social networks and have seen a large spike in demo requests for our new product."
About
DA Systems are same-day courier software experts.
Founded in 1999, their focus is to make the same day courier world a better place.
The 21-year-old business has thousands of users and drivers using their software throughout the UK.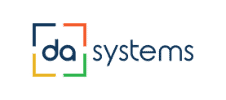 Challenges
DA Systems wants to be seen as the 'knowledge-hub' of the same-day courier industry.
Lee Morgan of DA Systems recognised the power social media could offer to achieve this vision.
Lee says: "We want to be seen as the 'go-to' company for industry news.
"We needed to be seen and heard sharing industry tips and knowledge, not just about our software, but trends and factors that affect the same-day industry in general."
Prior to working with 100 Pound Social, Lee says the company managed to publish "the occasional" social media post, but did not have a structured social media content strategy.
How 100 Pound Social helped
"100 Pound Social has taken away all of the headaches," says Lee.
DA Systems discovered 100 Pound Social via a LinkedIn post in June 2019.
Lee "liked the fact that 100 Pound Social were a local company" and the low price-point encouraged him to sign up.
Looking back on his first month with 100 Pound Social, Lee says: "After reviewing the posts, it was apparent that 100 Pound Social had captured our business model perfectly.
"It was clear to see the posts were specific to our industry and what we were trying to achieve."
Lee aimed to build a social media community of "raving fans of DA Systems."
He says that working with 100 Pound Social to generate "valuable discussions through our social media content is a great way of building rapport."
Initially, DA Systems used 100 Pound Social to source and share industry trends and news on social media.
Today, says Lee, "we lean more and more on 100 Pound Social to actually share key company information about product launches, job vacancies and internal blog posts as well."
Results
Lee says: "We are rapidly increasing our followers on social networks and have seen a large spike in demonstration requests for our new product."
He continues: "We wanted to increase the number of demonstration requests for our new product. 100 Pound Social has continually posted content around this and have increased the number of registrations we receive.
"We no longer have to worry about producing regular, relevant content around the industry."
With our help, DA Systems have "more than doubled" their social media following since signing up.
When asking Lee how we have helped DA Systems grow, he responded:
"100 Pound Social has addressed our short term goals around social media and are massively contributing to our long term ones too.
"The team are very polite, quick to respond and have a great grasp on our business and what we want to achieve.
"I have recommended 100 Pound Social to at least 3 companies and will continue to do so."
The Next Step
If you're ready to raise visibility of your company online and generate new business, we'd love for you to work with 100 Pound Social.
Click here to select a plan and sign-up.
To learn more, please grab a call slot:
Build a FREE social media plan for your business
Tell us a little about your business. Based on your answers, we'll create a FREE social media plan for you. No strings. Takes under 1 minute.