How Finance Recruiter Twenty84 Gains Visibility On LinkedIn With 100 Pound Social
"We are now highly visible on our chosen social media platforms."
Industry
Staffing & Recruitment
About
Twenty84 are a niche recruitment firm. The company specialises in recruiting permanent and contract roles in the financial services sector.
Their clients range from FinTechs to banks, investment management firms, and foreign exchange companies.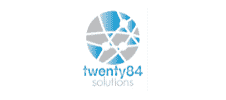 Challenges
Quentin Downes, Managing Director of Twenty84, wanted to use social media to showcase his company's expertise in an exceptionally niche market.
He set out to position Twenty84 as the 'go-to recruiter' for niche finance clients.
Before working with 100 Pound Social, Twenty84 struggled to build a strong social media presence, as they only found time to post to social media sporadically and their posts did not have a clear focus.
How 100 Pound Social helped
Twenty84 signed up to the £100 Posts Plan in 2017.
Since then, we have created and published posts to Twenty84's Company LinkedIn page and Quentin's personal LinkedIn profile.
Quentin says: "100 Pound Social quickly understood the types of content that we wanted and the style that we wanted to portray."
"You have really taken the time to understand our business and create fantastic posts – perfect 10/10 results."
Our social media service allows Quentin and his team to focus on running their business, while we produce and publish content that builds awareness and showcases Twenty84 on social media.
Results
Quentin believes that 100 Pound Social "have an awesome proposition, especially for newly launched businesses."
He says: "Our candidates and clients are always saying how we pop up on their feeds with useful content! In recruitment it's crucial to have this visibility."
Quentin's team use their Monthly Review Form to remind them to "take the time to think about our content topics for the following month in a really structured and time saving way."
He continues: "We have a really efficient working relationship with 100 Pound Social."
What is a Monthly Review Form?
Each 100 Pound Social customer receives their Monthly Review Form just before we sit down to schedule their next month of posts.
The form gathers feedback and gives you the opportunity to ask us to cover specific topics, events, or promotions in your upcoming month of posts.
Completing the form is optional. Many customers choose not to submit the form, preferring to let us plan which topics their next month of posts will cover.
Quentin says: "I recommend speaking to 100 Pound Social if you are struggling to achieve consistency on social media."
He also recommends working with 100 Pound Social "if you are starting out and need assistance getting your company's social media strategy in place."
The Next Step
If you're ready to raise visibility of your company online and get the attention of your ideal clients, we'd love for you to work with 100 Pound Social.
Click here to select a plan and sign-up.
To learn more, please grab a call slot:
Build a FREE social media plan for your business
Tell us a little about your business. Based on your answers, we'll create a FREE social media plan for you. No strings. Takes under 1 minute.