Lorraine Ball's More than a Few Words Podcast is described as a 'Marketing Conversation for Business Owners'. In each episode, entrepreneur, author, and professional speaker Lorraine chats with business leaders across the globe, on topics ranging from marketing and social media, to design and tech.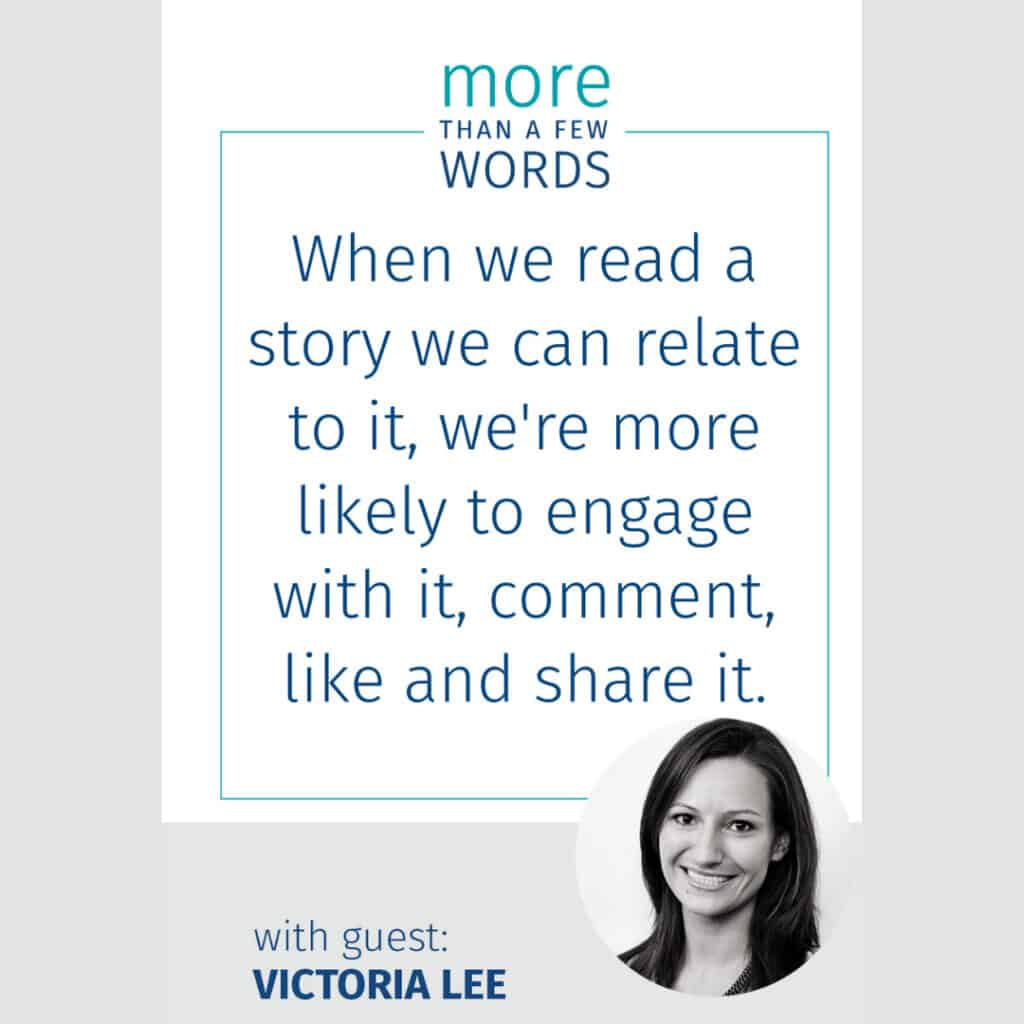 Each bite-sized episode is packed with actionable advice that you can immediately apply to your business.
Victoria Lee, CEO of 100 Pound Social, chatted with Lorraine recently on the subject of being personal with your social media content. She shared why this matters, and how it can help build trust in your business and brand.
Victoria also explained to Lorraine how the team at 100 Pound Social can help clients create these kinds of posts for their own audiences, to help boost both their social media presence, and engagement levels. Listen now, or read the full transcript below!

"Everybody tells you that you're supposed to share content on social media – you're supposed to post, post, post! But what do you post? That's what we're going to talk about today."
"Welcome to More Than a Few Words, a marketing conversation for business owners. MTFW is part of the digital toolbox. This is your host, Lorraine Ball. Today we're going to get into the nitty gritty of social media, and talk about the kind of content you should be posting on social media. I can't think of a better person to have this conversation with than Victoria Lee, CEO and Co Founder of 100 Pound Social."
"Victoria, a former journalist, started 100 Pound Social following spinal surgery. This was in order to create a 'work from home', flexible job for herself. Today, the company is fully distributed with over 20 team members. Victoria, welcome to the show!"

"Thank you for having me!"

"Victoria, I'm always struggling to get content ideas, and find just the right post for me and my clients. So I'm wondering if we can talk about some simple post types, ones that you've discovered work really well?

"Of course! So I think the type of post that works really, really well, and that's sometimes tricky to put together, is the personal posts that are based on your own story, and experience. Ultimately, social media is a human platform. And if we can read a story, and we can relate to it, we're more likely to engage with that, we're more likely to comment on it, like it, and share it."
"In every single post you create, you want to try and relate back to your own experience and feed that in. That's hands down the top type of post when it comes to content that gets the best levels of engagement."

"That is such great advice when you're working with an individual or a small company, because it is so personal. But can you share that same personal experience when you're working with a larger organisation? Can you bring that personalisation in? And how do you do it?"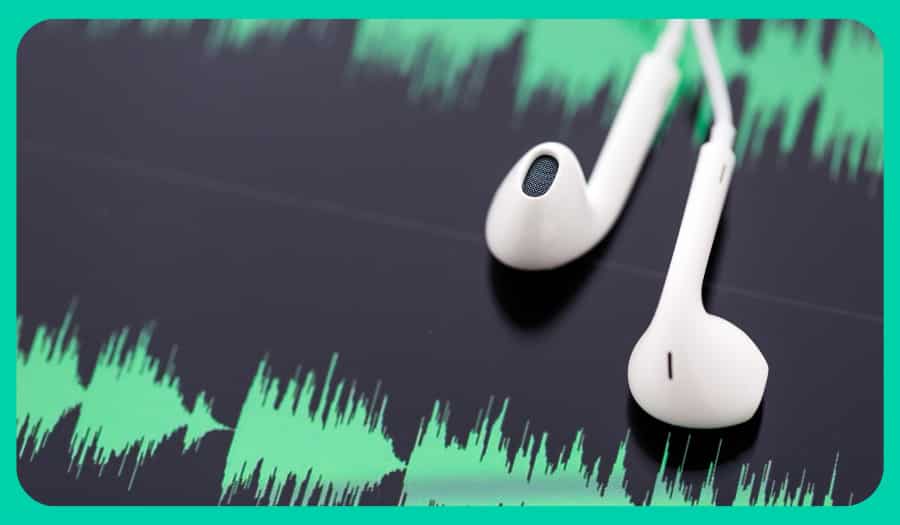 "There's no doubt about it, it's harder, and you have to approach it from a different angle. It also takes more time. You have to bring in team members, and create posts that look at their experiences. Getting your team contributing to your social media content and strategy is totally doable, and there are great companies out there that do it really well. But it's definitely a more time consuming strategy if you're working with a bigger team than a personal brand."

"The point that you made, that is the best type of post, that the payoff is really there when you can get that personal – can you give me some specific examples of things that you would encourage people to write about, or ways to weave that personal experience into your story?"

"I think something that people often don't do on social media is testimonials. So if you're a company, you want to be sharing testimonials from your existing customers or clients. You can always move that back to the personal point. You can include the testimonial, and then talk about your experience working with that client. That's a really great way to bring the personal story into a post. It's also going to be showing people evidence about what you as a business can achieve for them."
"The next thing is video. Video is often overlooked. We've all got iPhones and smartphones, and at the end of the day, if you do a video post, your engagement is going to be double or triple what it would be if you did a text-only post. For a lot of people, it's that fear of getting in front of the camera. Obviously, every video post is personal, because it's then you as an individual putting your face on that message, that you're putting out there."
"So those would be my top two tips in that respect!"

"It took me a long time to get comfortable with video. I came out of a corporate experience where you did very highly polished, very professional videos – perfect lighting, perfect makeup. And you don't have to do that. I often find that I'm turned off if the video's a little too slick, and I'm on Facebook, which I think of as a more casual experience."

"Absolutely. And it obviously depends on the type of company. If you're a multi-billion pound corporation, you're going to be putting slick videos out there. But often consumers don't expect that from small businesses or startups. They prefer to see that human side of the owner, them getting on camera and doing a Facebook Live, or going on LinkedIn and publishing a video."
"At the end of the day, you've got to look at it and go, "what is that video going to achieve?", or rather "what is it going to achieve vs. if I didn't post it?" or "I didn't post anything". And the answer is always going to be, if you post something, you're going to get more results than if you do nothing."

"Absolutely. Great advice. Ok, so I know I want to have these personal posts, but do you have a few tips for pre-planning? Because that's the other thing I think people really struggle with. I want to do all this stuff. But I'm running a business here. How do I get it all done?"

"Pre-planning is the most important thing. With social media, you can make the most amazing, high-engagement post, and publish it. But if you only do that once a year, you're not going to achieve anything. Consistency is the aim of the game. If you're not pre-planning your content, it probably means you're not going to regularly publish, which will defeat the purpose of the whole investment you're making in social media. So pre-planning is really important."
"My advice is to set a time – whether it's once a week, or even once a month, in your calendar. Use that time to sit down and plan the next week, or month, of content. You can use evergreen content, and find content that's still going to be valid in a month, or three weeks' time. Then if you have time, you can supplement that with more up to date content, even on the day you publish if you see something relevant. But it's about making sure that you've got a schedule of content ready to go out, even when you do get busy."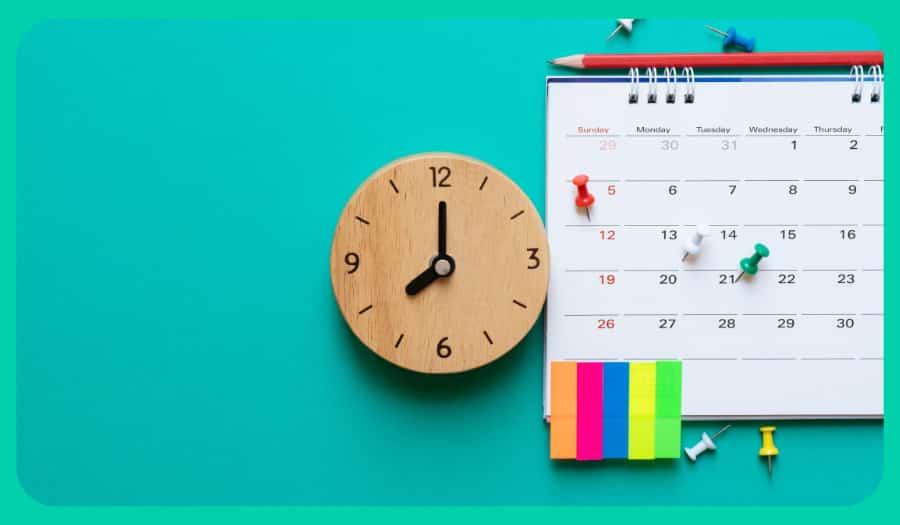 "The other thing I would say can help is outsourcing. If you're running a business and you're making a profit, it's often worth outsourcing your social media. It's not actually that expensive to do. You can get a social media assistant, or outsource to an agency."
"The key thing, if you're going to outsource, is to provide a briefing. Whoever you're outsourcing to has got to be able to replicate your voice. Otherwise, the benefits we've talked about with the personal posts is going to go down the drain. You've got to be able to provide a really comprehensive briefing, in order for them to be able to do that for you."

"You know, that's really good advice. When we work with clients on social media, the better clients, the ones where we're actually more successful, are the ones that recognise that we're going to do the heavy lifting, but they still have to stay involved. They have to be sending us photographs of the new building being constructed, or of the chef working in the kitchen. We'll figure out what to do with that content. But in order for it to be really authentic, and retain that personal tone, it's got to have that give and take. You can't be hands off."

"Yes 100%. We find that with our customers, we get the best results for customers who come back to us every month, they fill in the review form we send them, updating us, and giving us feedback. They're the people that we get the best results for, because we can adapt the posts based on their feedback and make sure the content is reflective of what's happening right now in their company. It's definitely a two-way street."

"Absolutely. Even if they do decide to do it on their own, it still doesn't have to be a wake-up-every-morning-and-post. There are lots of posting tools. Do you have any scheduling tools that you really like?"

"Yes, we use a tool called a HeyOrca. It's very good if you're going to be working with somebody – an assistant, for example – because it's got a great commenting system on it. There's also the more mainstream tools like Buffer, which I'd really recommend if you're going out on your own. It also includes social listening, so you can monitor key words like your company name. That's really important, because you need to be looking at the conversations that are happening around your brand and around your industry keywords, so you know the content you should be posting about."

"Awesome, Victoria, these have been great tips. Thank you so much"

"It's my pleasure."
---
If you enjoyed the interview (whether you read or listened!) please do leave a review for Lorraine and share which part interested you the most! While you're there, remember to subscribe to the More than a Few Words Podcast to be notified about new episodes.
As well as via Spotify, you can listen on Amazon, Apple Podcasts, Podbean, Stitcher and more!
Need Help With Your Social Media Strategy?
Grow your business online with 100 Pound Social! Expert social media posts and blog articles.
Social Media Posts Plans – from £100/mo
SEO Blogs & Newsletters – from £120/mo
3-5 handcrafted posts per week
A dedicated UK-based Content Creator & Editor (No AI)
Relevant images and hashtags
Dedicated Customer Success Manager
Order articles anytime – 5 day delivery + revisions
A dedicated UK-based Writer & Editor
Order blogs, newsletters, or LinkedIn newsletters
Learn more →
Learn more →
Book a demo call for more information on our services and to learn which of our plans is right for your business.