This blog post is written by 100 Pound Social's CEO, Victoria Lee. Find her on LinkedIn here.
Why is optimising my LinkedIn Profile so important?
You might be thinking that a LinkedIn company page is vital to boosting your sales through LinkedIn, but having a strong personal profile can make all the difference.
Why? Because people buy from people, not faceless businesses.
Even though LinkedIn is an online platform, people respond more positively towards images of real faces than they do towards company logos.
By fully optimising your LinkedIn profile, you have the opportunity to present yourself to countless prospects, which could ultimately give you the upper hand over your competitors.
Relationships are built through genuine connections, and LinkedIn doesn't allow you to build proactive relationships with prospects through a Company LinkedIn page.
Using your LinkedIn profile however, you can send messages and connection requests to pretty much anyone, and establish yourself as a thought-leader by sharing regular posts and publishing longer-form articles to to LinkedIn Publisher.
My LinkedIn profile is fully optimised for my business: 100 Pound Social.
Throughout this guide, I'll share screen grabs from my profile as examples of how to create a LinkedIn profile that helps to boost sales for your business. LinkedIn Profile Optimisation
If your personal profile is unfinished or unclear, the assumption will be that your services or products are similar. 'Optimising' your profile means whipping your profile into shape. It means turning your profile into a sales page that persuades prospects to book a sales call with you, or enquire about your products or services.
Your LinkedIn profile should only focus on one business.
If you run multiple businesses, consider creating a LinkedIn profile for each business.
Unless your businesses are in the same industry or closely related, trying to promote multiple businesses through one profile is likely to lead to zero LinkedIn sales for any of your businesses. LinkedIn is a powerful tool in any B2B marketing strategy when optimised effectively.
1. Images
Don't underestimate the importance of the images on your profile. They are the first thing a user sees when they glance at your profile, so make sure your images give the correct first impression.

Ideally, your LinkedIn profile banner will be a personalised image that is relevant to your business.
If you don't have a personalised image, a photo of the city your business is based in works well as a background for your LinkedIn profile. For example if you're based in London, use a picture of Big Ben!
2. LinkedIn Profile Picture
Ensure your LinkedIn profile picture is professional and up-to-date.
It's essential to choose the right photo for your LinkedIn profile.
Most people will glance at your photo before deciding whether or not to connect with you on LinkedIn. Those with a professional profile picture receive 21 times more profile views and 9 times more connection requests than those without one.
If you don't have a professional headshot, grab your iPhone and take a photo of yourself against a white wall background. Be careful to avoid making it look like an obvious 'selfie' though, so you might want to enlist a friend to help, or prop your phone up on a stable, flat surface. It only takes 2 minutes, and it will make a huge difference to your LinkedIn sales success rate.
3. Your LinkedIn Profile Name
After your name, add a comma and type out what you do. For example:
"HR recruitment expert"
"Expert Leadership Coach"
Often, your name is the only thing people will read; use this opportunity to tell them exactly what you do.
Note: Unless your business name is descriptive of your offering, or well known, it's not good practice to include it here. My 'name' on LinkedIn is; "Victoria Lee, Social Media and Lead Generation Specialist".
3. Headline
Use your headline to summarise your offering and identify your client niche. Put yourself in your ideal client's shoes; after reading your Headline, they should know immediately what your offering is and whether or not it is relevant to them.
This is my headline:

Don't be afraid to be specific here; being specific will prevent you from wasting time on unqualified leads. For example, if you only work with startups that turn over over £50K/mo, specify that.
4. Location
Your location is relevant so that potential clients or employees know where your business is located. Although many companies trade globally today, location is relevant for many factors, including currency, and potential distance if onsite meetings are required.
This is what mine looks like:

5. Your 'About' Section
Use your About section as a sales letter for your business:
Identify your prospects' pain points and tell them how your service or product solves their problems.
Include a call-to-action to encourage people to get in touch.
Again, put yourself in your ideal client's shoes. What do THEY need to hear to make them decide it's worth their while to have a call with you?
Bonus: Get your FREE Simple Steps to Generate Hot Leads on LinkedIn guide here!
A few points to remember:
Use short paragraphs; many people will only skim your About section, so don't overwhelm them with long, chunky paragraphs
Keep it short and sweet; no one wants to read an essay. Just provide enough information to tempt prospects to get in touch!
Here's an example of my LinkedIn About section: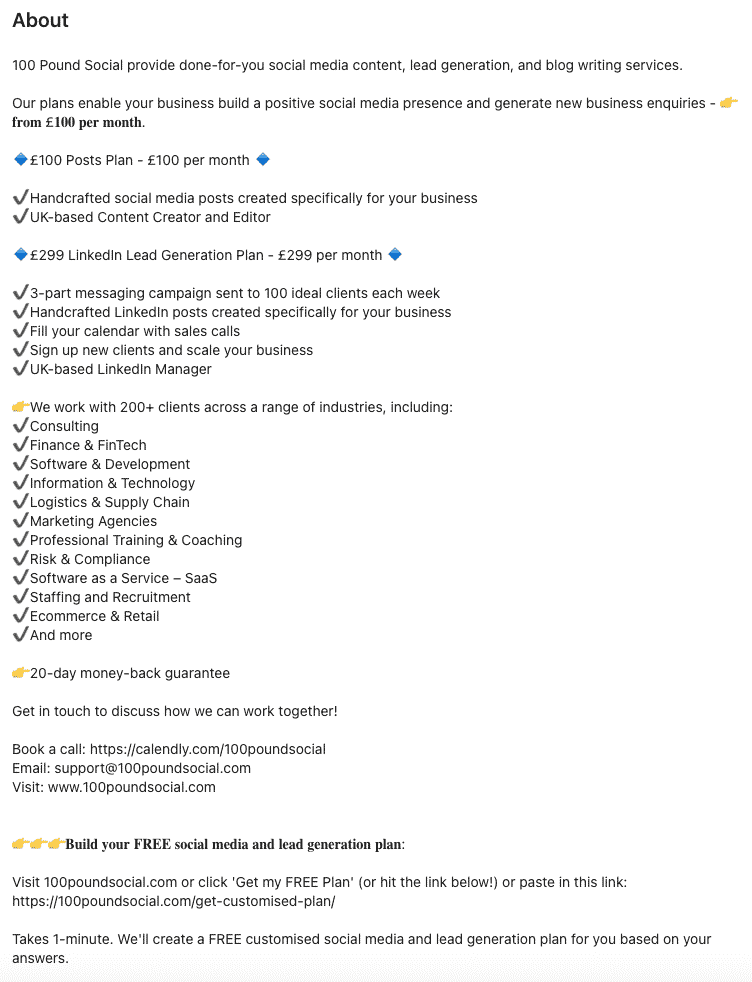 6. Adding Links
The 'Featured' section of your LinkedIn profile allows you to add links and documents that might be useful to your prospects.
To add a 'Featured' section to your LinkedIn profile, click 'Add profile section':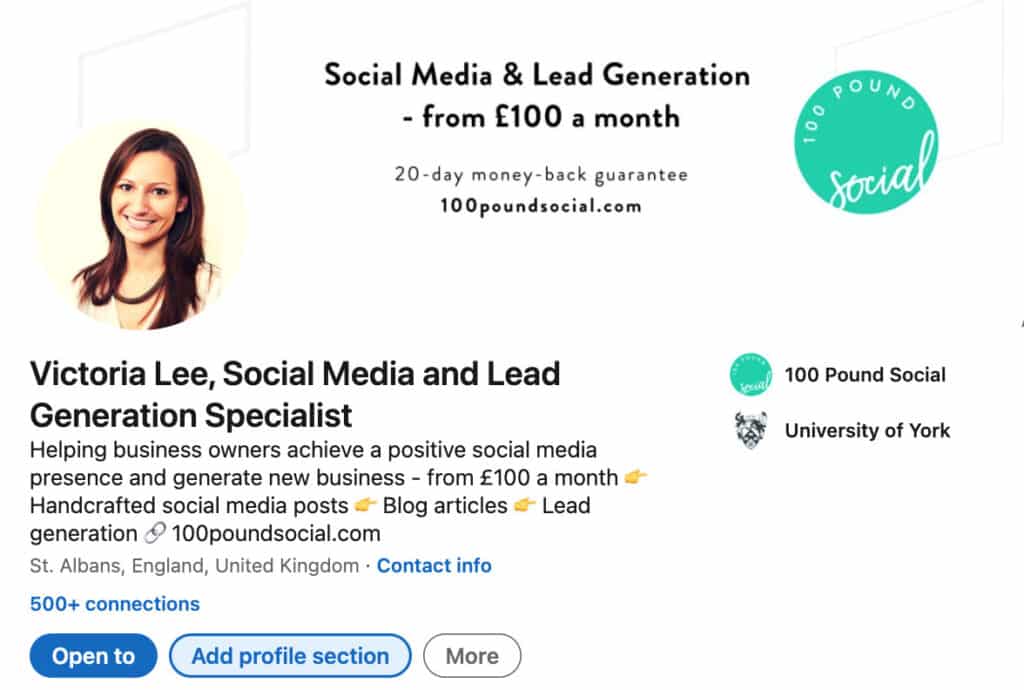 Then choose 'Featured' from the options, and select 1 or 2 key documents or links to showcase your business to LinkedIn prospects.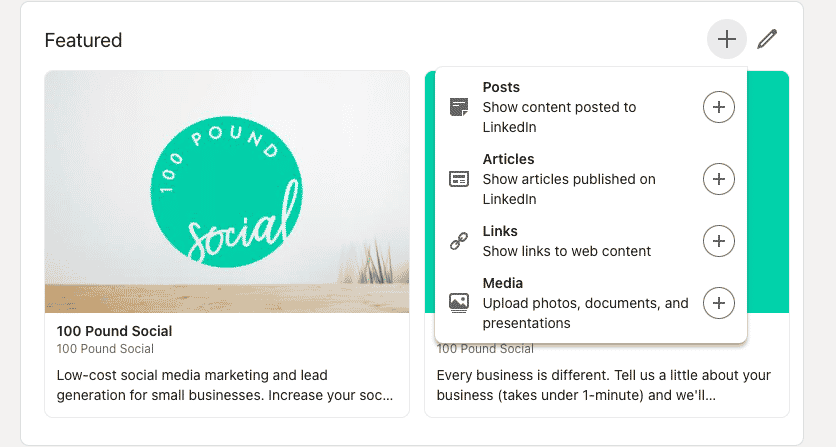 I use this to link to our 'free social media plan quiz'. Other ways you can use this function:
A link to your website
A video or presentation
A link to your appointment booking page
7. LinkedIn Profile URL
Create a personalised LinkedIn profile URL by clicking "Edit public profile & URL" in the top right corner of your profile.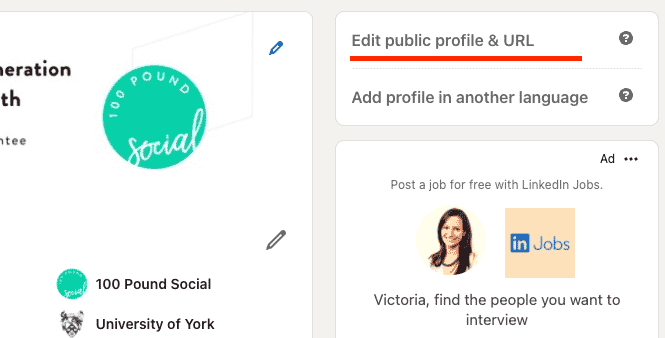 In the new tab that opens, hit the 'edit' pen symbol to personalise your URL. It's good practice to use your name and/or business name in your LinkedIn profile URL, and it's easier to share when networking on other platforms.
LinkedIn Profile Tips
It's a good idea to occasionally audit your LinkedIn profile and identify areas that require improvement.
There are several ways to do this:
Refine the other information on your profile to support your position as an expert in your industry. See the section below on 'Articles and Features' to gain more insight into this.
Remove information that does not support your expertise. For example, unless you work in hospitality there's no need to mention that bar job you had at a university on your profile!
Use assertive language to portray confidence. Remember, first impressions are the difference between hot leads and no leads.
Ask for endorsements and recommendations. This helps potential clients learn your skills, and find out how others found working with you.
Engage with other niche relevant profiles. Comment on interesting posts, share published content and add your own valuable commentary to it, or just 'react' to posts from your favourite thought-leaders in your industry.
Check out other profiles. Act like you would if you were networking in-person; someone who talks exclusively about themselves and their offering is going to turn people away pretty quickly. The more you engage and network, the more your profile will be shown to similar people.
Be strategic in how you manage social media. Schedule your LinkedIn posts, or implement a smart strategy and outsource your social media strategy to our qualified team of experts.
Include niche-specific keywords within your profile and summary. Long-tail words make up 70% of keywords that consumers search for. This is a powerful technique when applied to the specifications of your ideal client.
Expert LinkedIn Lead Generation
You have your LinkedIn profile optimised and you've set up a LinkedIn company page; for your business to grow, it is fundamental that new leads are reached every day.
You can share your LinkedIn profile and company page on your other social media channels—this is especially effective if you have a strong following already. Online business relies on building solid connections through networking.
What Happens Next?
Look out for ways to meet new people or generate leads from other networks. When you get to know potential clients, invite them to your LinkedIn network.
If you choose to work with 100 Pound Social, we help ensure your LinkedIn profile is optimised so you can be easily found by prospects, generate new leads every single day and make more sales.
Here are some of the ways we can help your small business grow:
| | | |
| --- | --- | --- |
| £100 Posts Plan | £299 LinkedIn Lead Generation Plan | Blog Articles Plan |
| Engaging social media content crafted specifically for your business by your dedicated UK-based Content Creator and Editor team. | Start profitable conversations and generate hot leads. Target 100 prospects per week via LinkedIn – plus LinkedIn posts. | Supercharge your social media & SEO content marketing with expert blog articles crafted by your dedicated UK-based writers. |
| £100 per month | £299 per month | From £100 per month |
| Get started now | Find out more | See more here |