How To Optimise Your LinkedIn Profile And Sell More Because Of It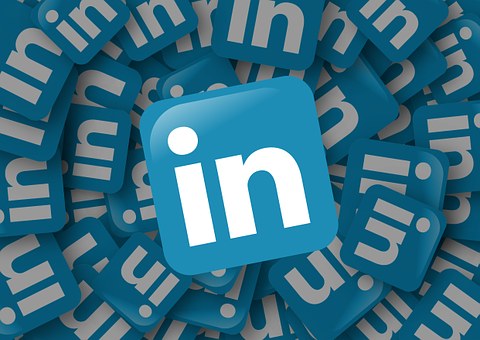 This guide is shared with paid customers on 100 Pound Social's £299 LinkedIn Lead Generation Plan. For the first time, we're sharing it for free.
INTRODUCTION
When you are selling through LinkedIn, your Profile becomes your 'website'. It's the place prospects learn about you and your business and validate your offering. 
If your profile is unfinished or unclear, the assumption will be that your services or products are similar.
'Optimising' your profile means whipping your profile into shape. It means turning your profile into a sales page that persuades prospects to book a sales call with you or enquire about your products or services.
My LinkedIn Profile is fully optimised and throughout this document I'll share screen grabs from my profile as examples.
Notes
Your profile should focus on one business only. If you run multiple businesses, consider creating a profile for each business. Unless your businesses are in the same industry or closely related, trying to promote multiple businesses through one profile is likely to lead to zero LinkedIn sales for any of your businesses.
IMAGES
Don't underestimate the importance of the images on your profile. They are the first thing a user sees when they glance at your profile so many sure your images give the correct first impression.

Ideally, your banner image will be a personalised image that is relevant to your business.
If you don't have a personalised image, a photo of the city your business is based in works well (see how London's Big Ben is in the background on my Banner Image?)
Profile Picture
Ensure your Profile Picture is a professional and *up-to-date image. 
*Most people will glance at your photo before deciding whether or not to connect with you on LinkedIn. 
You'd be shocked at the difference between the LinkedIn Connect Request Acceptance Rate for clients with a professional Profile Picture, and those who have a Profile Picture that looks like it's been cropped from their Facebook album.
If you don't have a professional headshot, grab your iPhone and take a photo of yourself against a white wall background. It will only take 2 minutes and it will make a huge difference to your LinkedIn sales success rate.
YOUR NAME
After your name, add a comma and type out what you do. For example:
"HR recruitment expert"

"Expert Leadership Coach"
Often, your name is the only thing people will read so use this opportunity to tell them exactly what you do.
Note: Unless your business name is descriptive of your offering or very well known, it's not good practice to include it here. My 'name' on LinkedIn is; "Victoria Lee, Social Media Specialist at 100 Pound Social". I include our business name only because it is descriptive of our low-cost social media offering.
HEADLINE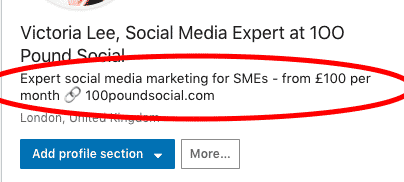 Use your  headline to summarise your offering and identify your client niche. Put yourself in your ideal client's shoes; after reading your Headline, they should know immediately what your offering is and whether or not it is relevant to them.
For example: "Expert social media marketing for SMEs – from £100 per month"
Don't be afraid to be very specific here; being specific will prevent you wasting time on unqualified leads. For example, if you only work with startups that turn over over £50K/mo, specify that.
LOCATION

Check it's correct!
SUMMARY 
Use your summary as a sales letter for your business. Identify your prospects' pain points and tell them how your service or product solves their problems.
Include a call to action to encourage people to get in touch.
Stay away from jargon and boring stuff about your company. 
Again, put yourself in your ideal client's shoes. What do THEY need to hear to make them decide it's worth their while to have a call with you?
A few points to remember:
Use short paragraphs – many people will only skim your summary so don't overwhelm them with long chunky paragraphs

Keep it short and sweet – no one wants to read an essay. Just provide enough information to tempt prospects to get in touch!
Here's the summary from my LinkedIn Profile:

SUMMARY LINKS
Below your summary, add a document or links.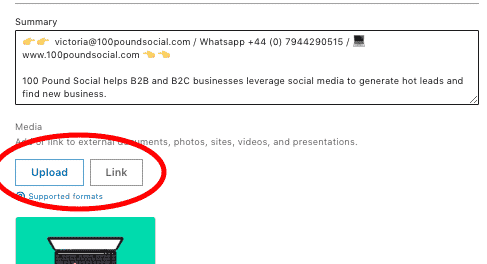 Use this function to add material that will further convince your prospects. We use this to link to our 'free social media plan quiz'. Other ways you can use this function:
A link to your website

A video or presentation

A link to your appointment booking page
PERSONALISED URL
Create a personalised URL for your profile by clicking "edit public profile & URL" in the top right corner of your profile.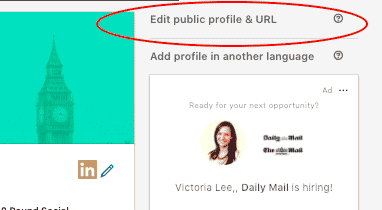 In the new tab that opens, hit the 'edit' pen symbol to personalise your URL. It's good practice to use your name and / or business name in your personalised URL
OTHER TIPS 
Refine the other information on your profile to support your position as an expert in your industry.

Remove information that does not support this. For example, unless you work in hospitality there's no need to mention that bar job you had a university on your profile!
Want to sell more on LinkedIn?
LinkedIn Lead Generation – £299 a month
✔ Generate hot B2B leads regularly
✔ Build your position as an industry thought leader
✔ One expert post published to your LinkedIn Profile every weekday
✔ Create a LinkedIn Sales Funnel 
✔ Directly reach 2,000+ of your ideal clients every month
✔ Watch your LinkedIn Inbox fill with messages from interested prospects
✔ Take on new clients regularly and grow your business
Create a FREE customised social media plan for your business
Every business is different. Start your unique social media journey!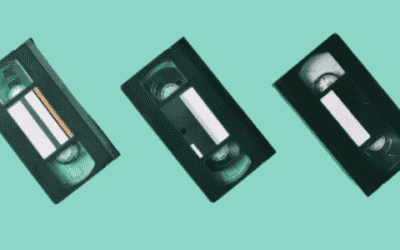 Is social media video marketing important? As technology continues to advance, there's never been a better time to incorporate video into your digital marketing and social media strategies. The marketing world is becoming more and more reliant on digital output...