The Importance of Your Agency Brand
Social media not only has over 4.55 billion users, but these users are active on an average of 6.6 different platforms. Social media has become a fundamental part of our lives, and it's set to grow further.
Due to the wide range of audiences social channels can reach, over 90.8% of business owners use social media to market their business. Social media marketing has become one of the number one ways that business owners market themselves. However, it can be hard for your business to stand out.
With high levels of competition on social media, one thing that will help your agency get noticed is having a strong online brand. Think of this as your agency's 'uniform'—an essential part of your business identity.
You want to make sure when creating your marketing agency brand that you're incorporating the personality of your business. Customers are more likely to turn their attention to brands they feel a connection with. You want your marketing agency branding to:
Create a deeper connection with your audience.
Gain their trust.
Show your brand's values; What does it stand for? How can your agency help your customers?
These are key things that will keep customers coming back to your brand. Your marketing agency brand design should be universal across your social channels.
You may need to consider expanding the platforms you're active on. By marketing your brand across multiple platforms and optimising your social media presence, you'll be able to reach a wider audience. This has the knock-on effect of increasing brand visibility and awareness.
Some of the most effective platforms are the most established ones:
LinkedIn
Facebook
Twitter
Instagram
Not all clients access the same social media platforms. By advertising your brand on a variety of different platforms, you have the potential to gain whole new audiences of potential customers to market to.
A word of warning however – it's crucial that you research the platform you're planning on posting on. Make sure you're focusing on the right ones, which is where your ideal social media audience will be active.
Also, don't be tempted to jump in and start posting just straight away. It's important to have a solid social media strategy in place first.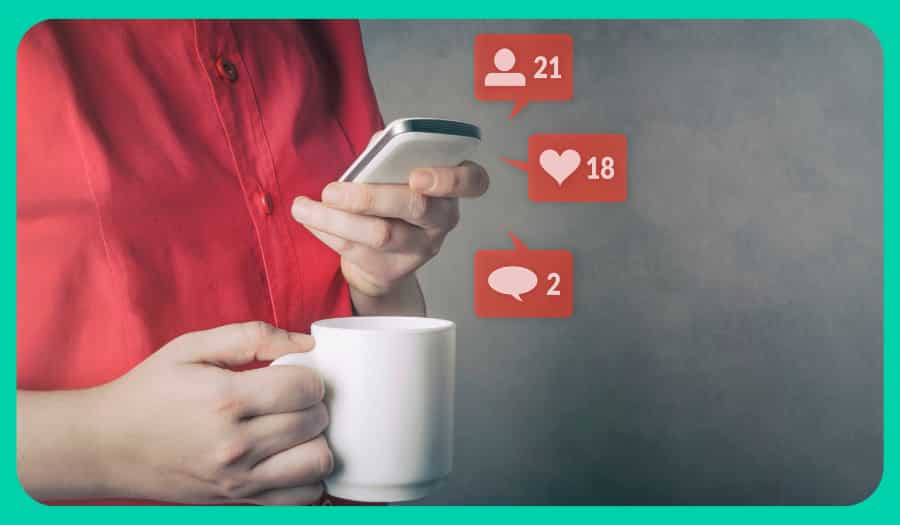 Plan and Create a Social Media Strategy for Your B2B Agency Brand
Creating a B2B social media strategy is essential for any business, and creating one that works for you will make the process a whole lot smoother.
When creating a social media strategy, you want it to be tailored to your agency and brand. Make sure you're creating content your customers will find relevant and interesting. You'll also want to keep this in mind when creating a wider digital marketing strategy to reach your B2B marketing goals.
Some things to consider are:
Know who your target audience is:
Knowing who your target audience is is crucial to building a successful brand. It allows you to steer your focus towards that target audience and develop a strong marketing strategy. Think about who you're helping, and critically, how you can help them.
Conduct market research to get a better understanding of your customer's needs:
This will help you create a more genuine connection with your customers by figuring out exactly what they want. You'll also be able to more easily and accurately tailor your content to their needs.
Plan your content and keep consistently sharing it:
When planning and sharing content, you need to stay consistent. Posting consistently is likely to gain more engagement from your audience and help get your brand on their radar. Not posting regularly may mean your audiences may forget about your brand – attention spans are short online!
When it comes to using different platforms, it's helpful to understand what type of content is best to post on each platform.
The following table gives some examples of the ideal content type and format for some of the most popular social platforms:
| | |
| --- | --- |
| Platform | Ideal Content Format |
| Instagram | High-quality images, staying active on your stories, sharing customer testimonials, live videos |
| Facebook | Videos, live videos, curated content |
| Twitter | Company news, blog posts, GIFs, high-quality images |
| LinkedIn | Stories, high-quality images, videos, live videos, company news |
By knowing the best type of content to post on each platform, you can think in detail about the different elements you can include for each post.
Plan Out a Posting Schedule
As we've discussed, posting consistently is incredibly important in order for your agency to engage, and maintain engagement, with your customers. Having a well thought-out schedule for your social media strategy will help everything run smoothly across all platforms.
Just to reiterate – it's not necessary to be on every platform, you just need to market your agency brand on ones that best fit your agency's needs.
Posting consistently doesn't mean you have to post on your platforms every day either. It's better to think about the quality of your posts rather than the quantity. Your potential customers aren't going to be interested in content that is more filler and fluff than value.
When creating content, think about how you can help your customers, not how they can help you. You absolutely don't want to make all of your content promotional. The goal should to build a relationship with your audience, whether it converts them immediately or not. It's crucial to build and maintain their trust.
Once you've figured out the type of content you want to post and where you want to post it, you can begin to create your posting schedule.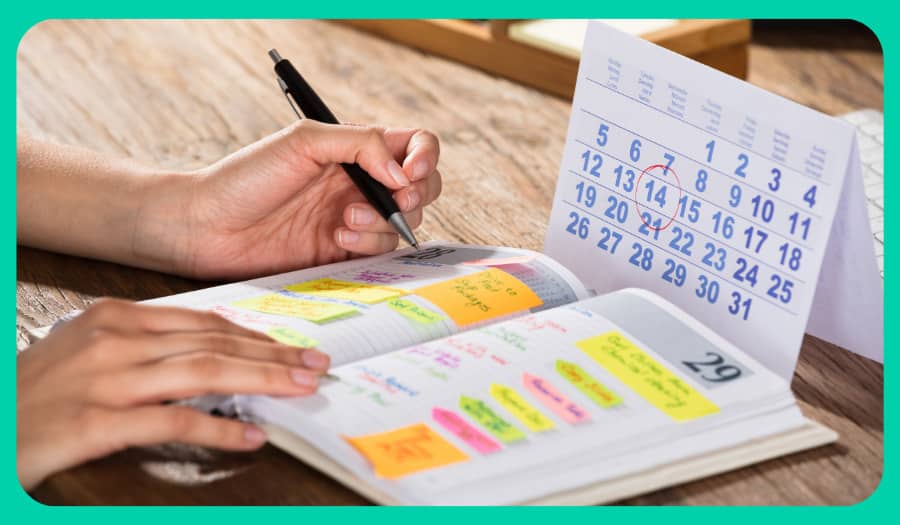 When creating a schedule, keep in mind what day and time you're going to post. Then stick to that schedule for consistency!
Establishing which times are best for posting is essential for social media success. If you post at a time when no one is online, you're reducing the chance of your valuable content being seen. The chart below gives you an indication of which times are best for each platform.
Platform
Ideal Posting Times
Instagram
Monday: 11am – 1pm
Tuesday: 11am – 3pm
Wednesday: 8am – 1pm
Thursday: 7am – 12pm
Friday: 11am – 1pm
Facebook
Monday: 9am – 11am
Tuesday: 9am – 1pm
Wednesday: 9am – 5pm
Thursday: 8am – 4pm
Friday: 9am – 1pm
Twitter
When it comes to posting on Twitter, you have to be cautious of which days you're posting on. Wednesday is typically the peak day for posting content. Any time after 3pm on a Friday is not ideal for posting due to the lack of engagement on that platform over the weekend.
LinkedIn
Monday—Friday: 9am – 5pm
Building Brand Trust Can Increase Conversions
Having a brand promise shows how much you value your customers and your employees. The more you're able to demonstrate you live by your values to your customers and employees, the quicker you'll build trust in your brand.
To create a brand promise, you need to identify what makes your company special. Think about how that promise connects your brand to customers and employees.
A brand promise is important to set expectations about what your agency will bring to customers. Only about 50% of businesses live up to their brand promise, and because of that, they quickly lose the trust of their customers.
To create a brand promise you need to consider:
Why should customers choose your business over others; what makes yours special?
What parts of your business are you confident about?
What does this bring to your business, and how can it help others?
The more trust you build with your customers, the more successful your business will become. The majority of customers don't trust a brand until they have proof of its ability to deliver. With the number of businesses operating online, it's increasingly difficult for customers to know which ones to trust.
The key factors in building sustained trust with your customers are:
Honesty
You need to keep your word and deliver on your promises. In the event you can't, explaining why and what action you're going to take is better than staying silent. This will help you build and maintain your reputation.
Respect your team
It's important to show respect to your team at all times. Employees who feel respected, show respect to customers as well.
Pay attention to feedback
Pay attention to what your customers are saying. Their feedback can provide valuable insight into how you're running your business.
Stay committed
Just like honesty, you want to keep your word and follow through on what you've said.
Social proof
By providing social proof online, you're showing transparency. You can do this by sharing positive feedback you've had from other customers online.
By building trust, you're building a connection. When you're able to make a genuine connection with your customers, you begin to create brand loyalty.
The Importance of Optimising Your Social Media Presence
Optimising your team pages can be a great way to develop your brand. Bringing personality to them, and ensuring that all team members' pages reflect your agency's brand and values can be another great way to form relationships with your customers. People love being able to see the people behind the brand.
You can also provide employee testimonials. Hearing how much an employee enjoys working for your business, and showing what goes on behind the scenes, is a simple and cost-effective way to boost brand perception.
Considering Your Personal Brand
Your marketing agency brand is important as it represents what your business stands for. However, more and more people are also focusing on building their own personal brands.
A personal brand impacts how you are seen by others online. It can help them build a positive opinion of you, and by proxy, your business. In recent years, having a personal brand has become something of a 'new norm' for business leaders, who are increasingly getting involved and expressing their views and personality online.
To establish your personal brand you need to:
Identify your niche: be specific about what this is.
Define your values: what does your personal brand represent?
Optimise both your website and socials to reflect your brand.
Produce relevant content consistently.
Create connections with your audience as well as others who operate in your niche.
Creating a personal brand outside of your business gives you new a window of opportunity. When you create connections with your personal profile and brand, you're also increasing your connections with your business.
By representing yourself as the owner, founder or CEO of your marketing agency, you're establishing yourself as an expert in the field. It shows you're accessible and authentic. When clients and customers see the 'face' of a company active online, they feel like they know you, and this naturally helps to build rapport and a favourable opinion of you and your agency.
Save Time With Expert Social Media Management
For a busy agency owner, developing and executing a social media strategy can be very time consuming. 100 Pound Social can help you here – we have the knowledge and expertise to provide cost-effective, top-quality social media content and lead generation for your marketing agency.
We offer hand-crafted content for your marketing agency's needs.
Social Media Posts Plans – from £100/mo
SEO Blogs & Newsletters – from £120/mo
3-5 handcrafted posts per week
A dedicated UK-based Content Creator & Editor (No AI)
Relevant images and hashtags
Dedicated Customer Success Manager
Order articles anytime – 5 day delivery + revisions
A dedicated UK-based Writer & Editor
Order blogs, newsletters, or LinkedIn newsletters
Learn more →
Learn more →
If you'd like to find out more, hop on one of our free and informal demo calls which run through our plans (and how we work) in detail.