The Rise of Social Media
With over half of the global population now using social media, businesses worldwide continue to make social media a priority in their digital marketing strategy.
The sheer volume of people using social media makes it more important than ever to narrow your focus when planning your strategy, otherwise your efforts could be wasted.
Starting out with social media can be intimidating, but once you've found your audience, the time and energy you have put into creating valuable content will begin to pay off.
In this article, we'll be sharing our tips on how to find and grow your social media audience so you can attract your ideal customers. We'll also be discussing how to start a social media marketing strategy once you've found your ideal audience.
Who Are Your Social Media Audience?
Your audience refers to the group of people who you want to appeal to on social channels, as this group are more likely to consume your content and buy from you.
They will typically have shared characteristics – similar interests, demographics, age range, gender, or even location.
If you're just starting out with social media, it's useful to have a broad definition of who your target audience is, in order to widen your reach as much as possible as you work on growing your following. Also, you'll be able to test out different audiences by experimenting with different messages.
Fundamentally, the more data you get from previous campaigns, the more you'll understand what type of messaging works, and the type of person that your content frequently attracts. Why Finding Your Social Media Audience Is Important
Executing an effective social media campaign starts with knowing exactly who it is that you're targeting.
Having a clear idea of who you're targeting will allow you to create more direct messages, which will attract and engage your target audience.
What Are the Different Types of Audiences on Social Medial?
People use social media for different reasons. Some use it to connect with other professionals, others use it to find new products and services.
Below are some examples of audience types you'll find on social media channels. Bear these in mind when creating buyer personas:
1. Influencers: Connecting with influencers is crucial for several reasons. Firstly, research suggests that 49% of consumers go to influencers when they want advice on purchasing a new product. Secondly, by reaching out to an influencer to promote a product, you will have unprecedented access to their audience which broadens reach.
2. Potential customers: Your potential customers will be on social media. Create content that shows authority and delivers value to win their trust.
3. Brand advocates: You may already have loyal customers who you can leverage to spread the word about your brand. Actively engage with them to nurture this relationship by engaging with their posts and even messaging them directly to let them know about new product launches or any active promotions.
How Do You Find Your Social Media Audience?
The simplest answer to this question is that you find them on social media. If you're a seasoned marketing professional, however, you'll know that nothing in marketing is quite as simple as that. There's a bit more to it than just scouring social media profiles to find your target audience.
It's likely that you've conducted some research on your target audience prior to finding your social media audience. If so, now would be a good time to bring out your notes.
Use the background information when completing the steps below. If you haven't conducted target audience research already for your business, then these steps will give you some direction of where to start.
1. Conduct Social Media Audience Research
Audiences behave differently on social media than how they do on other digital marketing channels. Use social media to understand how your target audience is behaving by conducting research. Here are some ways you can perform social media audience research:
Analyse how your competitor's audience are interacting with them
Look at private Facebook groups within your niche
Establish your audience size
Use search tools in channels like LinkedIn to survey your customers
2. Find Out Where Your Target Audience Spends Their Time
Social media can be time-consuming, but it doesn't have to be, if you strategically choose which channels you use.
To determine what channels you need to be active on, it is important to identify where your target audience are 'hanging out'. One way you can do this is to track your mentions on each platform. This is called social listening. If one channel gets more mentions than others, then that's a good indication as to where your audience is hanging out.
While it's important to be strategic with the channels you use, leveraging other channels can also be beneficial to widen your audience reach.
Below are the most frequently used channels for B2B marketing. Start out with two or three and use automation tools to streamline posting:
| | |
| --- | --- |
| Channel | Description |
| Facebook | Facebook Ads is used by 65% of B2B marketing professionals. |
| LinkedIn | 61 million mid-senior level professionals use LinkedIn, making it an excellent source for increasing demand generation for B2B businesses as these people tend to have buying power in their company. |
| YouTube | B2B businesses have turned to YouTube for social media marketing as video allows them to demonstrate the benefits of their product. A YouTube channel also humanises your brand, making you more approachable. |
| Instagram | Instagram is overlooked by B2B businesses but with so many people looking to stories to find new products and services, it would be advantageous to test it out as a secondary channel. |
| TikTok | B2B marketers are starting to become creative with TikTok and they are using it in a similar vein to how they leverage YouTube. |
3. Create Buyer Personas
Buyer personas are a fictional representation of who your ideal customers are. They are typically presented as a social media audience profile and are important for the following reasons:
Market segmentation. Your target audience will share characteristics, but there will be some distinct nuances between their needs that you should bear in mind when creating content. Creating different buyer personas can help you further understand your ideal customers.
Buyer personas help you get into the mind of your customers. Thinking like your customers will allow you to better understand their needs and interests, which will in turn help you create the most targeted content possible.
4. Talk to Your Customers
Social media has a distinct advantage to other digital marketing channels because it gives you direct access to your potential customers and their buying behaviours.
Talking directly to customers will give you real-time insights into their struggles, how they behave on social media, and what they want out of a product or service. This information will help you to cultivate targeted messaging.
Here are some ways you can talk to your customers on social media:
1. Start polls
2. Share a form
3. Encourage customer interaction by setting up a separate account for customer support
4. Start your own private group to gain real-time insights into customer needs and changing behaviours
5. Test Different Types of Content and Channels
Testing different channels is important because it broadens your reach. It also encourages you to try out different types of content that you're not sold on.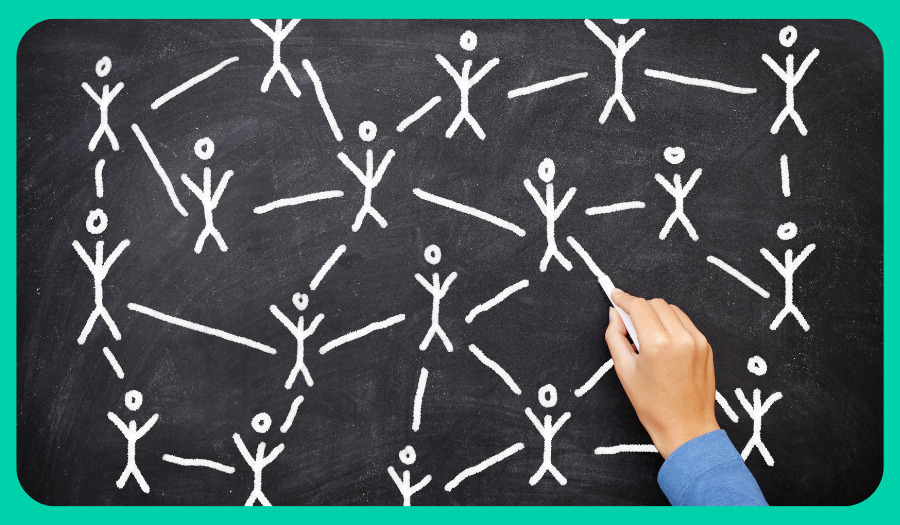 How to Build a Social Media Strategy
When starting out in social media, it's tempting to post on an ad-hoc basis but having a social media strategy is key to seeing the success you want to.
Choose Your Goals 
Your goals and objectives will form the basis of your social media strategy, so it's important to identify them before you start any planning.
Some common examples of social media goals include:
Increase in website traffic
Lead generation
Revenue growth
Increase brand engagement
Determine How You're Going to Measure Success
You now need to understand how you're going to measure them to see if your campaign has been successful. Choose the most relevant KPIs according to your campaign goals and objectives.
For instance, if your goal is to increase engagement, then the most relevant KPIs would be shares, likes, and comments.
Setting KPIs is an important practice but they are the most effective if you follow the S.M.A.R.T goal methodology.
Smart stands for:
Specific
Measurable
Achievable
Realistic
Timely
Implementing this framework ensures that you stay focused when developing content and that your reports contain valuable data not vanity metrics.
Identify Your Target Audience
We've already touched upon the importance of finding your social media audience in great depth, but if you need further direction, we have developed a social media audience profile template to help you define your target audience.
Decide When You're Going to Post
Decide the frequency you're going to post and stick to it. Having a schedule helps to be consistent, which is critical to beating social media algorithms.
When deciding on how often to post, consider external factors that contribute to the success of your post, for instance, the time of day you post.
While some marketers argue that there is no right time to post on social media, there is some quantifiable data that suggests the time you post has an impact on your post's success:
| | |
| --- | --- |
| Channel | Time to post |
| Facebook | Tuesday, Wednesday, and Friday between 9am to 1pm. |
| Instagram | Tuesday between 11–2pm, and Monday through Friday at 11am. |
| Twitter | Wednesday at 9am–3pm and between 9–11am on Tuesday Through Friday. |
| LinkedIn | Tuesday – Thursday between 9am – 12pm. |
Determine Your Primary and Secondary Channels
Identifying your target audience should have helped you establish which channels you want to post on. You should also consider other factors like what your goals and objectives are.
If your goals are to increase brand awareness, then you should consider Twitter and Facebook for their impressive reach power. Contrarily, LinkedIn can be a powerful lead generation tool as users are actively seeking out connections.
You should also consider the type of content you want to make as certain types of content works better on some channels than others.
For instance, LinkedIn is better for long-form advised based content. Instagram is much more visual and will require you to create video and photo assets.
Plan, Create, and Distribute Content
Once you've decided on the frequency of your posts, it's time to start planning, creating, and distributing content on your channels.
When planning content, think about how many assets you need and what the purpose of each asset is.
For instance, if your primary objective of using social media is to increase website traffic, then creating a series of blog posts that you can promote on your social media channels is the most appropriate type of content.
Create an editorial calendar to track your posts. This is key if you're using multiple channels.
Analyse the Success of Your Campaigns
Monitor the success of your social media marketing activities frequently to understand what's working earlier on and modify the content you publish to see maximum success.
Typically, businesses report on a month-by-month basis for on-going campaigns. If you're just starting out with social media or are running a one-off campaign, you should hold off reporting for at least 45 days to give the algorithms of your channels a chance to find and suggest your content to relevant users.
Contact an Expert Social Media Agency
For specialist advice, contact an expert social media agency to help you craft a social media strategy.
100 Pound Social specialises in creating affordable social media posts that fuel business growth.
Join a 30-minute demo call to see how we can help you fuel your business growth through social media.
Social Media Posts Plans – from £100/mo
SEO Blogs & Newsletters – from £120/mo
3-5 handcrafted posts per week
A dedicated UK-based Content Creator & Editor (No AI)
Relevant images and hashtags
Dedicated Customer Success Manager
Order articles anytime – 5 day delivery + revisions
A dedicated UK-based Writer & Editor
Order blogs, newsletters, or LinkedIn newsletters
Learn more →
Learn more →