To ensure you are getting the most from your social media plan we encourage you to give us regular feedback. 
How you give feedback (and how much feedback you provide) is completely up to you. We work hard to act as an extension of your in-house team and keep you involved (or as involved as you want to be!) with your social media plan.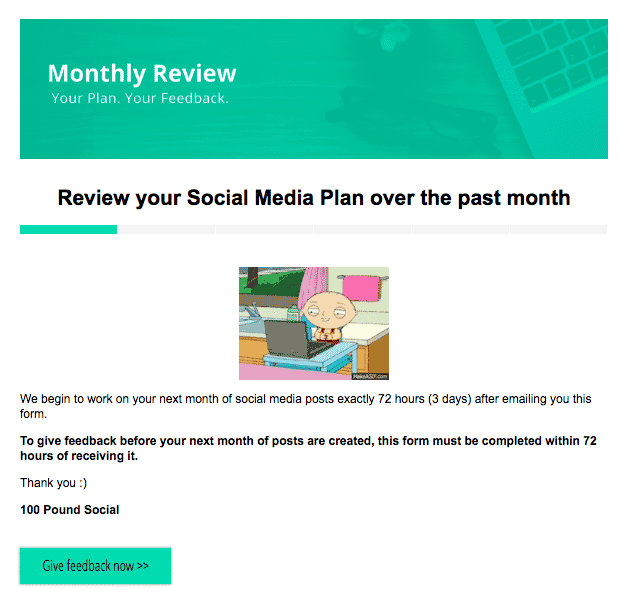 Your Monthly Review Form
Each month, we send you a 'Monthly Review' form. This gives you the chance to tell us what you loved about your last month of social media posts and what (if anything) didn't tickle your fancy.

To help us prepare for your next month of posts we also ask you to update us on your company's events, news, competitions etc. coming up over the next four weeks.
That way, we can plan social media posts to cover these items and ensure they get the publicity they deserve.

It's super important that you submit your Monthly Review Form within 3 days (72 hours) of receiving it.
We begin work on your next month of social media posts exactly 3 days (72 hours) after sending you the Review Form.
That means, if you want your feedback noted before we create your new posts you've got to move like the wind!
Ad hoc Feedback
I will be your main contact at 100 Pound Social. You will have my email and phone number and I encourage you to stay in touch; contact me anytime to feedback on your social media posts or to discuss your plan.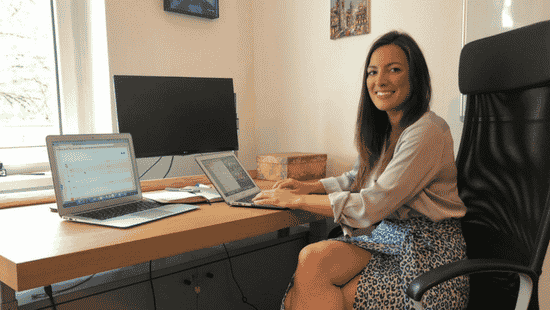 Louise Lee, Head of Social Media Success. Your main contact at 100 Pound Social
If you are holding an event, running a competition, or just have some last minute news you'd like us to post about to your social media pages, give me a shout. I will arrange for posts to be added to your schedule as soon as possible.
Create a FREE customised social media plan for your business
Every business is different. Start your unique social media journey!